~by Katherine D. Stutzman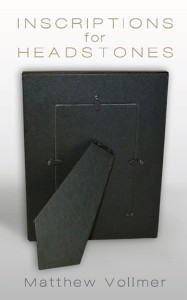 148 pages/$12.00
"Here lies a man who…." Each of the thirty essays in Matthew Vollmer's Inscriptions for Headstones begins with some variation on the traditional text of an epitaph. From there they spiral outward, memorializing experiences not often mentioned on gravestones: killing copperheads in the driveway with a shovel, tearing pages out of Playboy in a mall bookstore as a teenager, feeling guilty for spending time in front of the computer instead of taking your child sledding. Vollmer (Future Missionaries of America, Fakes) observes with pleasing precision the ordinary moments that make a life; he uses these moments to explore the relationship between memory and identity and to mourn the passing of the many different selves contained within each person's history.
The essays in Inscriptions for Headstones are brief, usually no more than five or six pages, each written as a single sentence that wends circuitously through a mixture of reminiscence, digression, confession, and contemplation.  The pieces all seem to be about the same man, referred to only as "the deceased," captured at different points in his life from early childhood until he himself becomes the father of a young son.  Certain motifs—an obsession with angels, a childhood in North Carolina, an adult life of teaching and writing—recur throughout the collection, binding the essays together and unifying their subject matter.    
Vollmer's essays bristle with detail. His epitaphs describe the swarms of ladybugs that infested the deceased's home in Iowa, the "severely tapered Bugle Boy stonewashed jeans" he sought in the mall as a thirteen-year-old, the way the deceased and his sister built haunted houses:
hanging tarps from the ceilings to create passageways, lighting candles, smearing their faces with a mixture of bananas and red food coloring, tying semitransparent dental floss to old coolers and pulling the strings when visitors walked by, thus revealing the decapitated bodies of dolls, or throwing a wig out of the dark space beneath the stairs, which was supposedly a cave where a crazy woman scalped people.
This wealth of detail is the great strength of Vollmer's writing. It places his essays in opposition to the generic outlines found in typical obituaries—when we know with such exactitude what has been lost, the grief becomes searingly real.
Vollmer's sharp focus on detail also provides a foundation to support him when, as he does in many essays, he moves from small moments to larger, macrocosmic ideas and questions.  He begins his essays looking at life through a magnifying glass; by the end of many of them he has pulled back to a wide-angle lens.  Without being rooted in specificity these endings might seem abstract or grandiose, but in Vollmer's hands they are lovely, melancholy and meaningful, as when he ends a piece about the deceased's father by wondering "what was really inside the head of this man who had a hand in the deceased's creation, what thoughts and dreams and premonitions the man would always keep under wraps, what swarms of unspoken things he, like the deceased, would someday take to his grave."
Vollmer's essays work best when he keeps them tight, building them around a single experience or memory, such as the one unexpected time when the deceased and his teetotaling father shared beers at the Billy Goat Tavern.  Other essays attempt to capture whole phases of the deceased's life; these pieces tend to sprawl and lose focus.
At times, the single-sentence construction adds energy to the essays, but at other times it becomes distracting.  Vollmer employs some unwieldy syntax as he stretches his sentences page after page.  It was sometimes necessary to go back and figure out where a certain clause began, how disparate ideas came to be in the same sentence, or whether a thought that Vollmer began was ever finished.
Perhaps the most compelling aspect of Inscriptions for Headstones is the juxtaposition of vividly evoked memory with the idea of forgetting.  Those elaborate preparations for childhood haunted houses—they will one day be lost to the passage of time, just as the boy who performed them will be lost, gradually at first as he is transformed into other, older selves, and then irrevocably as he is lost to death.  Vollmer uses his epitaphs to give us a convincing, compelling portrait of a man who remembers and forgets, who wrestles with cosmic questions and with the daily round of responsibilities, who brushes again and again against his mortality and the realization that even our children "someday […] would not want us to sing our grandmother's songs someday they would want to be alone they would want us to go away and we would and we will and we will be missed, and then forgotten."
***
Katherine D. Stutzman's fiction has appeared in jmww, The Postcard Press, and Summerset Review, and her book reviews can be found in New Letters, Cider Press Review, and Pleiades.  She currently lives, writes, and teaches in Philadelphia.