~by Kaya Genç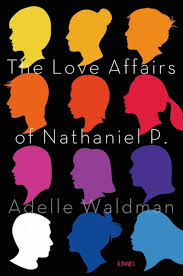 256 pgs./$11.73
In The Love Affairs of Nathaniel P., her exquisitely composed debut novel, Adelle Waldman gives us Nathaniel (Nate) Piven, a young novelist obsessed with imagining the feelings and ideas of female characters around him. Like Nate, Waldman worked as an essayist for numerous print and web publications. But despite the resemblance between them Waldman's literary creation is a very dislikable creature: a selfish man lacking the faculty of empathy that is crucial for the novelist he is struggling to become.
On the face of it Nate is a likeable figure. He is successful, well-groomed and attractive. His prospects as a writer are excellent. He has a six-figure book deal and a growing reputation among Brooklyn's literati. The story sets off months before the publication of his debut novel and quickly reveals how Nate's gentlemanly façade is a mere ploy that conceals his womanising ambitions.
During a dinner party where he offers his critique of modern society, Nate sounds like a leftist intellectual who has the double privilege of being perfectly educated by the very establishment institutions he criticises. As the product of a postfeminist childhood in 1980s he empathises with people around him but his empathy serves to accommodating his selfishness, rather than destroying it. Waldman does a brilliant job at showing what a cunning social climber Nate is. When he meets a school friend in the second half of the novel, Nate tries, unsuccessfully, to impress his high-earning friend by name-dropping highbrow magazines and publishing houses which he considers important. But the cultural capital he had gained through those suppliers of intellectual privilege fails to make an impression on her.
The charm of The Love Affairs partly comes from the somewhat flirtatious relationship between Waldman and Nate. We see two types of imagination simultaneously at work here. Waldman's perspective is surgeon-like and is reminiscent of Thomas Mann's Tonio Kröger, a story about a young German artist. Although most reviews of Waldman's book namecheck Lena Dunham and Girls as influences, antiquated literary terms like Künstlerroman (artist's novel) do a better job of describing the book.
Among all the women who have had relationships with Nate in the past, none is as interesting as Hannah, a fellow up and coming novelist whose sensibilities and interests seem, at first sight, similar to Nate's. We know exactly what Nate thinks of her from the moment he sees her until the end of their relationship. This is what makes Hannah's precision in diagnosing the problems of their relationship so enjoyable (she is a Sherlock figure who solves Nate's heart-breaking crimes in the course of their relationship). At certain parts in The Love Affairs of Nathaniel P.  I wished Waldman threw Nate into the closest waste container and gave me more of Hannah. But this is a novel about the failure of the male imagination. Hannah needs to be there as an object of Nate's gaze, rather than the subject of the book.
Nate's career as a book critic plays an important role in the first half of the novel. He considers whether he should sleep with Hannah while considering how he should approach the novel of a leftist Israeli writer he is assigned to review. Those considerations inhabit neighbouring compartments in Nate's train of thought. He dutifully reads the previous works of the author before starting to work on his essay, in much the same way as he dutifully considers his previous impressions of Hannah before starting to hit on her.  With her masterly use of dramatic irony Waldman handles beautifully the confusions and contradictions of Nate. She presents us with the phenomenology of the mind of a young male writer. Her imaginative faculties cross the border of gender and brings precious material to the reader's side. While finishing the novel I couldn't help but think of Junot Díaz and This is How You Lose Her, his latest book, where female characters seem destined to be endlessly deceived. When compared to Yunior's rich inner world, those female characters are of little interest to us. Waldman's attempt at imagining the other sex is much more successful. She might have easily told this tale from Hannah's point of view. But her journey into what one character calls 'Nateland' works precisely because the novelist engages in the serious game of imagining the 'other'.
***
Kaya  Genç is a novelist, essayist and doctoral candidate from Istanbul. His work appeared in The Guardian, Los Angeles Review of Books, The Guardian Weekly, Index on Censorship, Songlines, and on Guernica, The Millions, Specter and London Review of Books websites. His first novel, L'avventura, came out in Turkey in 2008. He is currently working on a novel in English. www.kayagenc.net