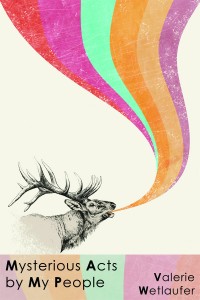 87 pages, $14.95
Review by Molly Sutton Kiefer
Valerie Wetlaufer's debut collection Mysterious Acts by My People is a flirtation, seeped in desire and violence, the two often tangled with one another in a fraught tryst.  Wetlaufer shows her poetic range within this collection, and somehow, the bulk of the poems ring as absolute truths, while donning personas and flights of fancy.  The opening poem of the collection contains a kind of thesis for the book: "I loved a girl / when I was a girl, // before I knew desire / could be used against me" ("Solitary Vice").  Here we have situations and emotions battering against each other in four lines:  the thrilling potential of attraction opening into the range of ways this can be a punishment.
Her poems make authentic other lived lives through persona.  In the poem "Bad Wife Spankings," she writes in declarative truths: "I am the archeologist" and "I rewrite myself."  These imaginative acts by the poet allow the realm of experience to open up, to show the universal in human experience.  In a violent sequence in the second section, there is a poem called "Telling True," where "I rattled on / & they put me away."  Here it does not matter where the root of truth is, but that each poem is true—truly felt, truly mattering.  One self in "Conjugal Elegy" reflects, "My tongue traces / tattoos & scars" and "Tangled sand, uncomfortable / legs, wasted days spent memorizing the body / I'd soon share."  This kind of single-bodied entity moving into communal selves is also explored in intense friendship, as in the prose poem "The Canyon":  "Once my hair grew long.  You braided it together with your own.  A black & blonde plait held us together on the ground.  I put a pebble in your mouth.  You almost kissed me."  There are no lines in the sand in this poetic world; instead, there are almosts and there are moments-after.
Wetlaufer also employs disguises and costumes—in the title poem of the collection, she writes, "In this town we share a constant frenzy / to disguise" and ends "The piano is covered in soot & I listen / as nails are filed, costumes mended."  A narrator reflects in a later poem, "Head ragged, no crow halo as I'd imagined— / lucky I brought a wig for you to wear."  Often her narrator knows what she wants, though she doesn't always get it:  "I am in search of a fashionable animal" in a poem that ends "I have the scrap of a name on my tongue."  Her Marie Antoinette poem "Frippery & Demise" is frothy with its ribbons and ruffles and horrified, bloodied decadence.
Wetlaufer uses the language of the body to explore the experiences of the body:  "But no more on my knees at the keyhole. / No smeared-lip vendetta.  Your nomad cunt / keeps coming back, but the locks have frozen, / the whip gone missing" in "One Day I Laid Down the Bruise of You."  Even in letting go, there is violence; in the poem "Unsent":  "I pray every day for the moon to erase your face  / from my mind" (that line break!) and "I wake up, / scuff my heels against the floor, go on being starved."  Here longing takes on not just the metaphorical heartache, but also a physical hurt.
There are poems in this collection of youthful innocence and those that are not of experience, but instead, of lost childhood.  Her poem "The Pupil" is one of the most seamless in the collection—a story of rape told in a succinct and controlled way, giving us lines such as, "I wanted some / proof that you hurt me, but instead my grandmother / invited you in for lemonade."  The poem itself is devastating and perfect.
There are other gorgeous poetic moments.  In the scattered poem "Tornado Alley," mimicking a kind of destruction across the page, she breaks the line perfectly:  "Carry the rape flashlight, advertised to blind / your persecutor."  There are poems with lovely syncopation, poems that beg to be read aloud, full of a kind of jazz, a pop and pause, a hang at the end of each line:
                        You know the scent
of shatter like I
know the mouth-feel
of icy thumbs,
peeling a bruised
nail at its seam
overturning
a stone;
And acts of intimacy are that are stunning:
                                                            We sleep like silverware
in my childhood bed.  Through thin walls we hear
my parents talk & fuck.  You dip your face
into me like a kitten drinking milk, your whole face
disappearing into a shallow bowl.
Wetlaufer's poetic selves are fierce and deeply felt.  She writes, "I could be a dancing bear, reign devastation on these homes / of sod & tar paper, then lie down like a pet by the fire."  And later, "Once I lay down in a garden, secret & untamed."  The stillness here is juxtaposed with the wild—the glory of the wildflowers staring up at the order of a garden.  In many ways, this is the best way to describe Valerie Wetlaufer's first book—for wildflowers can be striking and destructive and breathtaking at once.
***
Molly Sutton Kiefer is the author of the hybrid essay Nestuary (Ricochet Editions, 2014) and the poetry chapbooks The Recent History of Middle Sand Lake (2010) and City of Bears (2013).  She is a founding editor at Tinderbox Poetry Journal and runs Balancing the Tide:  Motherhood and the Arts.