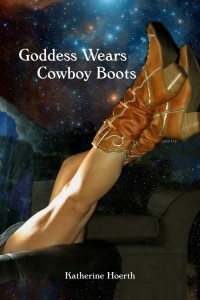 116 Pages $15.00 USD
Review by Amanda Daria Stoltz
Every poem in Katherine Hoerth's Goddess Wears Cowboy Boots is a fresh gust of wind. In this stunning collection, Hoerth deconstructs the complexity of femininity, and the steep binary that makes feminine beauty both dangerous and powerful, sinful and godly. These poems are effortlessly steeped in nature and mythology, and each is as satisfying as Eve's first taste of forbidden fruit.
Hoerth teaches literature and creative writing at the University of Texas Pan American, and it's no mystery why she's got a chili pepper rating on Ratemyprofessors.com; her poems are spicy hot. Goddess Wears Cowboy Boots is Hoerth's second collection of poetry, and it keeps its promise to be as sexy (and powerful) as a Goddess wearing cowboy boots. Never have I read poems so encompassing of womanhood. They range from naivety to caution, from shamefulness to exhibition. They are as if Faulkner's Caddy wrote poetry.
Hoerth is a masterful poet and the lyrical flow of her poems never missteps; it is only interrupted by dialogue heavy with consequence. The poems are set in Deep South Texas, which is foreign to me, only adding to their exotic nature. They evolve throughout four sections; the first being "Her Face Was Lovely Once," which harkens back to a time of naivety when a girl first learns that beauty is more of a curse than a blessing. My favorite of this section is "Asking for the Sting," where the speaker remembers herself as a young girl sitting outside the library in a short red dress. The last two stanzas are:
my head held high like I was looking for
it, something beyond this, beyond the book,
laying open in my lap with rustling
pages. I was looking for it—asking

the bee to come, the sting, the scarlet welt
my neck wears now, reminds me not to sit
outside alone, to smell of fruit and spring,
to tempt the world, to ask it for the sting.
In this poem we are acquainted with the beginning of the end of unbridled girlish wonder. The brief period when one is on the brink of knowledge, like Eve, invincible. When one does not know what "the sting" will be, but asking, begging for it nonetheless. Furthermore, the shamefulness coupled with being bold, for wearing a dress so short.
Throughout this collection Goddesses, Eve among them, are modernized and anything but ladylike. Demeter swigs a Shiner Bock and Eve watches the food channel. These pieces speak to the reader from personal experience, and both encourage and admonish her. Consider the last line of "Perspephone, Out Past Curfew" where Hoerth writes:
Admit it—you're like me. You couldn't wait
to fall so fast from grace it feels like flying.
If you're anything like me, there is truth to this line that cannot be ignored. If you've ever perched on the edge of darkness, wondering what it would taste like. Wanting just a sip. Hoerth's poems are naked, but not shy. If there is a woman in your life who needs inspiration, skip the Sheryl Sandberg and give her Goddess Wears Cowboy Boots. Your thanks will be in watching her discover the divine within herself.
***
Amanda Daria Stoltz was born and raised in Washington, D.C. She earned her B.A. in English from Tulane University where she studied creative writing alongside marine biology. She's at work on her first novel, a mystery set at a marine biology lab. Follow her on twitter @Stoltz_Amanda.