By Nichole L. Reber
Six of us writer/expatriates had just sat down to another stop in our culinary tour of Lima, Peru. It was still early enough in the restaurant this Friday night for conversation with friends. Garlic wafted through the air from the kitchen at our backs and purple, pink, and gold cocktails sparkled in the lumens of the sconce lighting. Someone broached the topic of Mario Vargas Llosa, that country's Nobel-winning author, and tension shot through the table like a backfire.
Finally Canadian Paul spoke up: "I just couldn't make it through the damn book. I tried– I really did– but it was just … I finally had to just give up."
Our collective sigh deflated the tension like a whoopie cushion. At last, someone else who didn't like Llosa, Peru's demi-god. Back then I assumed I'd appreciate— love even— any literary prizewinner's work. I've learned since that that is certainly not so; prizes are just as subjective as any and every other art form. I had yet to realize, as I have through this Year of Colorful Reading, that my problems with South American literature wouldn't stop at Llosa. Why? Could it be just another form of subjectivity? After all we can't like everything.
Let's first look at authors I've tried to read:
Mario Vargas Llosa
José María Arguedas (also Peruvian)
Clarice Lispector (Brazilian)
Pablo Neruda (Chilean)
Rómulo Gallegos (Venezuela)
V.S. Naipaul (Trinidad)
and Gabriel García Márquez (Columbia).
I only finished a few books by these authors. I was just missing something, something I still can't put my finger on. But it wasn't until I tried a second one of Arguedas's books that a connection was born. (More on that later.)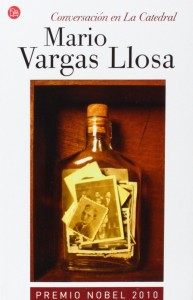 I had assumed my enjoyment of living in Peru would translate as something tantamount toward its literature. Nope. Likely because Latin cinema glues me to the sofa so would its literature. Nope. These were arguments made to myself in order to overcome a distaste for South American lit upon reading Márquez and his magical realism many years before living in Lima. When I moved there, I made a second go at it. It's a shame, after all, that the first thing readers think when they hear about South American lit is magical realism when that's merely a fraction of that continent's significant literary output. This time with Llosa's Conversation in the Cathedral. I figured I'd be safe. Nope. "I just couldn't make it through. I tried– I really did…." Nonetheless, I kept going. But it wouldn't come. It was like the Brangelina thing. I don't get that either, try as I might to understand what fascinates people with that couple.
One of the major reasons for the disconnect may lie in the plethora of characters and character development. By page 41 in Llosa's Cathedral my notes in the margin indicate I had a hard time determining who was who. Same thing ten pages later– this time indicating who did what to whom. Yet again ten pages later. It made me curious how many theses have been written about the number of characters in Western lit versus those in literature from more social places like Asia or South America. Perhaps if I'd grown up in a social environment like Peruvians/ South Americans it wouldn't be so hard to keep up with the numerous characters. Or perhaps if I found distinct characteristics to tell them apart I'd find the task of reading these books more enjoyable. It's interesting to see the cultural difference in acceptable literary tropes this way.
More likely it's Suramericano dynamics that throw me off. Like Ayn Rand's novels, they proceed slowly and lengthily. Do I feel that way because my 21-century reading habits prefer paragraphs that don't extend to two pages? Does that mean as an American writer/reader I rush through stories? Since Hemingway publishers have printed fewer and fewer pages solely of rumination. Perhaps it's that I'm not as literarily intellectual as my ego believes and I haven't the cerebral power to comprehend epic novels that scale 672 pages. Maybe it's a gap in my cultural appreciation of their literary tropes like metaphor, turns of phrase, creative syntax, tension and brevity and breathiness. Whatever the root of my discontent, I do not know.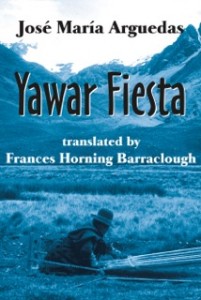 Then Arguedas shows up. Some bibliophiliacs claim his novels, Yawar Fiesta (originally published in 1941) and Deep Rivers (1958), mark the beginning of the neo-indigenista movement. He originally wrote these novels combining the syntax of Quechua (the language of the Inca descendants spoken in five Amazonian countries) and the vocabulary of Spanish. Imagine translator France Horning Barraclough's task in turning this hybrid language into English.
Arguedas' writing does not race like a suspense novel. His cast of characters dizzies me. His prose doesn't contain the lyrical flowers I prefer. But he captures the tense divide between the indigenous people and those who eschew that part of Amazonian history like a black sheep. That was the single biggest take-away from my time living in Peru. The more the white Peruvians marginalized the "Indians"—yes, that is Barraclough's translated word–– the more compelling the Indians appeared. He writes about the mystical/magical side of the indigenistas in a way that neither preaches nor romanticizes though he's writing for and to Andeans, not for white people.
In Deep Rivers, his protagonist is a white teenager who seems to be discovering his country's history even if his father doesn't encourage it. Early on in the novel Arguedas mentions, for instance, the Fortress Sacsayhuaman, a 15th century structure built by the Inca that stretches more than a third of a mile.
"The Incas must have known the history of all the 'enchanted' stones and have had them brought to construct the fortress," the son says to his father. "And what about the ones they used for the cathedral?"
"The Spaniards reworked them. Look at the chiseled edge…" his father responds.
"Chiseling them must have broken their 'enchantment.' But perhaps the domes on the tower retain the radiance they say there is in heaven. Look, papa; they're glowing."
I glowed too when reading that. It reminded me of stories I wrote about Machu Picchu and Kuelap, another fortress, for a Hong Kongese architecture magazine. The enormous, unchiseled stones used to build Machu Picchu beguile archaeologists still. The irrefutably mystical, poetry-inducing air surrounding Kuelap, that fortress on a precipice, felt like Arguedas writes in his novels.
So, when it comes to South American literature, the household-name authors haven't yet sparked my interest. An obscure (though prize-winning) champion of the indigenistas has, and I would recommend that should you ever to go to Peru or just want to learn more about that Amazon, read his work. (These two titles are available from Waveland Press.)
His work has afforded me an opportunity to learn more about the country and continent I lived in. It's also inspired me to dedicate 2016 to reading aboriginal/ indigenous/native literature from around the world. That doesn't mean, however, I'm giving up on South American literature.
***
Nichole L. Reber is an award-winning writer whose memoirs, essays, literary reportage, and lit crit centers on art, architecture, and travel– and sometimes cults. Her work has won awards from Traveler's Tales and the Antioch Writers Workshop (Midwest).http://www.nicholelreber.com/