INTERVIEW BY MANDY SHUNNARAH
–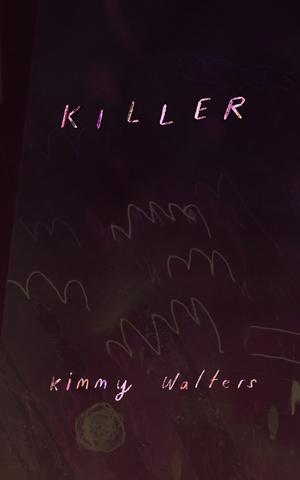 Whether she's writing about the endless curiosity of the body, the challenges that accompany being a feminist who isn't afraid to defend her autonomy, the humor of living in a semi-rural area, or the wisdom of dogs, Kimmy Walters will delight you.
Walters is young—26, to be precise—so Millennials especially will recognize themselves in Killer's pages. Walters' debut poetry volume, Uptalk, was published in 2015, also by Bottlecap Press. At this rate, poetry connoisseurs will have much to look forward to.
Walters' is the kind of poetry you can't help but want to read, even when you're falling asleep with the bedside lamp on. It's the kind of poetry you read aloud to your friends because you just can't keep it to yourself. The kind of poetry you want to read at stoplights even though it would pain you to be caught in the midst of a poem when the light changes.
While some modern poets default to snark, Walters is confident enough in her poetry to let each piece speak for itself rather than forcing the reader toward a quick, easy, often moralistic conclusion. Killer asks the reader only to observe and acknowledge—what readers glean beyond that is entirely their own.
Though the entire volume is captivating, the standout poems are "Good Morning, I Am Not Going to Commit Suicide Today," "Does Your Soulmate Speak English," "Marrying a Husband," "Poem About How Little Affection I Had for Him," "Giving Blood," "The Water Was Filled With Swans," "People Person" and, of course, the namesake, "Killer."
I talked to Walters about her writing process and how her life experiences have informed her work.
Shunnarah: One of the things I most enjoyed about Killer is that while your poems are flush with meaning, they're also extremely enjoyable on the surface level. Was the accessibility of your work always important to you? Did you ever have a memorable moment of throwing your hands in the air in frustration while reading a poem and think, "What does it all mean?" and vow not to make anyone do that?
Walters: Thank you! I'm not sure I ever consciously decided I wanted my writing to be accessible–I just didn't have any interest in writing anything super opaque. I don't get frustrated with needlessly complex writing so much as I get disinterested. I start looking around like "What else is going on?" I'm not going to spend a lot of time with a page that's not really trying to communicate with me, and neither are most people.
Shunnarah: In the poem "Killer," for which the collection is named, you speculate there may have been a killer who previously lived in your residence. Have you learned more about the house's history since writing that poem?
Walters: I just looked up the house that poem was based on in Google Street View and there is a single black folding chair on the porch. Seems ominous…
It's possible a killer lived there. That whole town was haunted as hell. One time my roommate and I slept downstairs in sleeping bags so we could try to get an overnight audio recording of the upstairs ghost. It was inconclusive.
Shunnarah: A number of the poems in Killer have a dark, subtle humor that is rendered sublimely in the text. I also noticed the recurring theme of dogs, creatures who manage to be simultaneously sage and goofy. Tell me more about your sense of humor and how it has developed in your poetry.
Walters: I've been depressed for a large portion of my life, and I dealt with it by constantly telling myself jokes. For a long time I thought that's what everyone's interior monologue was like. My sense of humor comes from years and years of trying to distract myself from being sad.
Shunnarah: You studied linguistics in college—deviating from the more common path of studying English literature or creative writing. Tell me more about how the study of linguistics gave you insight into language and influenced your poetry.
Walters: I didn't have a lot of direction when I entered college, but the adults around me warned me against pursuing an English degree because they thought I wouldn't be able to get a job. (I later found that it's not easier to get a job with a linguistics degree, and a lot of people don't know what linguistics is.)
It's kind of an accident that I ended up with this degree, but it was a good course of study for me. I've always been interested in what language is capable of, its history, and how it changes. Studying linguistics definitely encouraged me to be more playful with language. The first thing you get taught in an introductory linguistics class is that you need to stop being such an asshole about language, which was true for me and probably all of my classmates.
Shunnarah: You've talked extensively about your use of social media as a poetic medium—namely making poetry out of the tweets from the now defunct horse enthusiast bot account, @horse_ebooks—so here's the obligatory social media question. Many fans of your poetry found you via Twitter and Tumblr. Do you think blogging and social media, particularly Twitter because it requires brevity, have helped guide people to modern poetry?
Walters: When I was a tween, the thing to do at my school was to keep a blog, so I've been writing online for about 13 years. Connecting with people online is easier and makes me less anxious than trying to meet people other ways, and the way I've connected with people is by sharing writing or art.
Over the years I've had a lot of practice creating things that I want people to see. I took to Twitter quickly because I'm usually brief anyway. Twitter's character limit is a constraint on writing the same way that the rules of haiku are. I mean, like anyone, I've tweeted "who up?" but hella old poems essentially boil down to "who up?" too. It's one of the Big Questions.
The internet is a buffet and I am going hog wild on it. It's so easy to sample things—I read articles online about subjects I'd never think to actually buy a book about. That may be where some of the interest in poetry is coming from. Someone who'd never browse the poetry section of a bookstore might have a poem come across their feed on Twitter or Facebook and find that they like it. Then they'll come across a tidbit about food science or body language and like that too. We take in so much information; some of it's gonna be poetry.
Shunnarah: Killer is your second collection of poetry, the first being Uptalk, which was also published by Bottlecap Press. In what ways have you evolved as a poet from Uptalk to Killer?
Walters: I think I was more focused while writing Killer, and generally had a better idea of what I was doing. I felt more confident writing, because I knew that people had responded positively to my work, and made quicker, less self-conscious decisions. The style is similar, but tighter, I feel.
Shunnarah: What are you working on now?
Walters: I'm figuring that out! I've just been writing poems and waiting for some theme to hijack my life so I can write another book.
–
Mandy Shunnarah is a writer based in Columbus, Ohio, though Birmingham, Alabama, will always have her heart. Her creative nonfiction essays and book reviews have appeared in The Missing Slate, Entropy Magazine, Deep South Magazine, and The New Southerner Magazine, where she won Honorable Mention in their 2016 contest. You can read more of her work at her website, OffTheBeatenShelf.com.