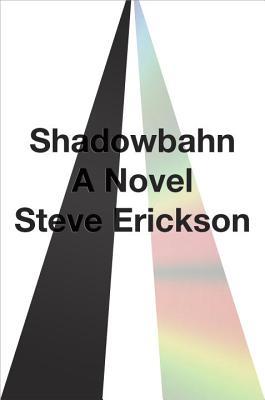 Blue Rider Press, 2017
REVIEWED BY JESSE LAWRENCE
—
SAVE AMERICA FROM ITSELF
— a bumper sticker reads, in a land with a flag of disunion, a land wherein a shadowbahn, a secret highway (possibly running parallel with the night train), "cuts through the heart of the country from one end to the other with impunity." On the shadowbahn, it appears the whole country is a secret. It is no longer a united land, if it ever was. The Twin Towers have reappeared, and they continue to reappear, here and there, and disappear again, from here or there. It's a time and a land that reminds us "we never were as impervious to the chaos of human history as we thought."  This is America, yes, and this is the land of disunion.  This is a land with a birth, and also a death, "dates on a country's tombstone." The appearance of the Towers is seemingly a miracle, yet none will lay claim to them. The county certainly won't, even going so far as to shove the responsibility off on the Lakota, whose tribal council elders are none too pleased about such a notion. The nation here, as is, always, still, cares not for tribal lands and rights unless such may be exploited for the nation's own convenience or gains, and this case is no different. There is no change, now as before, and so we are stuck, not impervious, forever trapped, disappearing and reappearing, and trying to remember what came before, as if we might finally discover that which holds us back.
The Towers are examined form every angle. From below, from on high, with our eyes, and with camera lenses. Photographs are "enlarged, decoded, in-zoomed, and out-zoomed." It's Blow-Up on a national scale, concern and distrust on a Blow Out scale. It's the Zapruder film all over again. And just as we have failed to escape or even remember history, we are back in time, as well. The shadowbahn leads us everywhere. We are JFK. We're Elvis. We're Elvis's twin brother Jesse, dead at birth, yet somehow surviving, living that life the shadowbahn lead him to. We're in hotels, and we're in the Factory. We're being shot at, here. We're being shot at by Valerie Solanas, and by snipers? Conspirators? Hired hands? We're living and dying and surviving. The voice says, "what I'm telling here is your story, America… You're the one who lived it, and you fucked it up, didn't you? Sure you did."
Shadowbahn is an exploration of our nation, a journey through it, past and present, all to the tune of an American playlist. Within the book are multiple playlists, in fact.  As I'm sure will be the case with everyone who reads this book, I have compiled these playlists. I'm listening to one now, actually, as I type and erase and revise. I am listening to the playlist of the chapter headings. Tracks one through twenty-four. At least, I'm listening as best I can, for there is no Elvis here, unfortunately. Erickson admits that the concluding tracks are practically impossible to find, and Dylan and Caruso are just fine, but they're not the precise ones. Perhaps this is why we're stuck in history and time. We've somehow filled the puzzle with ill-fitting pieces. They hold the whole together, but only as well as a single stitch. It bought us some time, but is useless if we don't mend. Progress comes through union.
On the shadowbahn, we are reminded that it is up to all of us. We are all our own sound, and we are each other's sound. We are hope and music and sound and voice. Let us not lose our sound. Let us not surrender.