listen to this story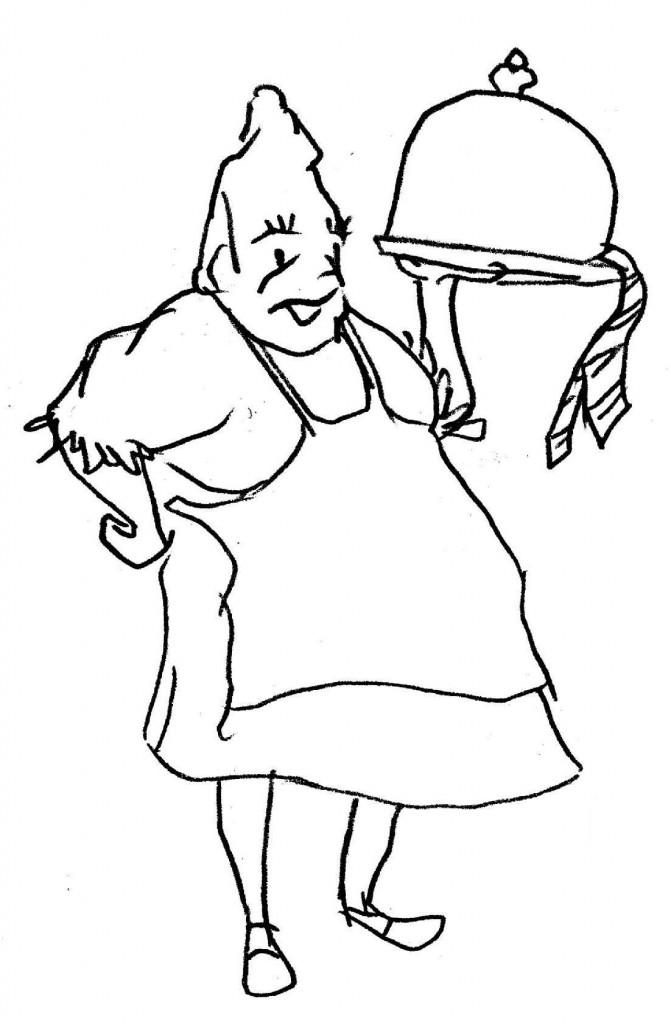 Welcome to HappyVegetarian.com! You are viewing the most recent reviews for Kitty's Kitchen, London Bridge (oldest to newest).
A FUN PLACE TO EAT
It was a little difficult to find Kitty's Kitchen – it's down a funny little backstreet, behind London Bridge railway station – but it was worth the effort! A tiny little place, more like sitting in someone's living room than a restaurant, and it's run entirely by a young, chatty couple who were really helpful and recommended some wonderful dishes. Hubby had the beetroot risotto, whilst I had the garden salad with mock-meat paté. We shared a vegan chocolate cake for dessert. Would recommend! – Dinah & Nick, Sheffield.
5 out of 5 users found this review helpful.
Favourite!
Kitty's Kitchen is my favourite kitsch eatery in the city! Gorgeous chintzy furniture, full of flowers and interesting pictures on the walls! I went three times during my last trip, and ordered something different every time. An a la carte menu in the evenings is perfect pre-theatre cuisine! Couple who run it are fabulous fun! It's small, but intimate. Recommended! – Greg, Manchester.
4 out of 6 users found this review helpful.
Weird restaurant.
It doesn't look like a real restaurant at all and the owners were rowing in the kitchen and we could hear every word because they were practically cooking on our laps. Food was flavourless. Bad atmosphere. Wouldn't go again. – Martin, London.
2 out of 7 users found this review helpful.
Misogynistic owner – AVOID
The owner was an absolute pig. He leered over me throughout the meal, in plain view of my husband, and simulated a sex act with our bottle of mineral water (which was not complimentary). As we left, he made crude remarks to my husband regarding my décolletage. He smelt awful, like whiskey and vomit, and his eyes were bloodshot. We'll be warning our vegetarian friends against visiting such an unprofessional establishment. – Joyce, Weymouth.
7 out of 9 users found this review helpful.
NEVER AGAIN
We had the worst experience in Kitty's Kitchen and will NEVER go back. The restaurant was really tiny and we were uncomfortably close to other diners. The kitchen is open and the couple who run the place had a massive argument and actually THREW plates at each other. We left without paying. DO NOT EAT HERE. – Leanne, Putney.
5 out of 6 users found this review helpful.
Surprisingly good.
We found Kitty's Kitchen by chance and it was a lovely place. The woman who runs it seems to do everything – she took our order and cooked it – and she was really pleasant. A little forgetful maybe – she ran out of hazelnuts and actually left us alone in the restaurant whilst she ran across the street to pick some up. It was quite quiet, but she was a lot of fun. We'd definitely go back, ignore the bad reviews. – Tim, Dundee.
1 out of 8 users found this review helpful.
Strange experience!
Kitty's Kitchen serves great food – really simple, filling lunchtime menu, with a more complicated, gourmet evening menu. We were there for lunch and found the place to be empty. The owner/waitress/chef (Kitty?) sat with us for most of the meal and told us where to go in London. We're actually from London. Didn't know how to ask her to leave us alone, but she was really nice – and the food was amazing! Get the mock-meat burger, it was bliss. – Joanna and Claire-Bear, Islington.
0 out of 4 users found this review helpful.
GREAT RESTAURANT!!!
WE HAD THE BEST TIME AT KITTY'S KITCHEN! THE WOMAN WHO RUNS IT WAS REALLY FRIENDLY AND PLAYED THE SQUEEZE BOX WHILST WE WAITED FOR OUR FOOD!! REALLY CHEAP TOO!! – MATTY, WALTHAMSTOW.
0 out of 11 users found this review helpful.
Awful.
The restaurant wasn't just small, it was absolutely packed with junk. The owner had to clear a table for us to sit at, and even though all five of us ordered different dishes, she brought us all cheese omelettes, which we refused to pay for. She didn't seem very apologetic and did not offer to prepare the dishes we had ordered, so we left with empty stomachs. – Julian, Wigan.
9 out of 9 users found this review helpful.
Odd but good!
We had a lovely although somewhat unusual time at Kitty's Kitchen. The food was slow in coming, but delicious (the mock-meat is incredible, highly recommended). Whilst the restaurant is alcohol-free, the hostess seemed to be drinking gin – but was only too happy to share it with us. Whilst we ate, we heard some strange noises coming from the back garden and – upon enquiry – she informed us that she was teaching herself to play the squeeze box. She sat with us during our desert and told us that she got the restaurant when she divorced her husband – a fact she seemed to find hilarious. We didn't know what to say, but it was fun nonetheless! – Grace & Fiona, Warwickshire.
5 out of 8 users found this review helpful.
This place is a joke.
The food was cold and weird and the owner was really out of it and when questioned she said she was on medication for depression but when she went out to the garden we could smell marijuana which she said was just the smell of her herb garden but we knew better she had an argument with the fridge-freezer and forgot to charge us for our meal so we left without paying don't know how this place stays afloat will never go back. – anonymous.
10 out of 10 users found this review helpful.
Décevant
Un beau restaurant, mais malheureusement nous n'avions pas pu bien apprécier le repas, parce-qu'il y avait un problème de conduits, et le restaurant sentait mauvais. Dommage, nous avions entendu des choses merveilleuses à  propos des simili-viandes sur la carte. – Michel et Julie, Grenoble.
0 out of 12 users found this review helpful.
Is this even a real restaurant?
It looks as though the owner is actually living in the restaurant. More like a jumble sale than a place to eat. A problem with the drains meant we couldn't have tap water with our meal – an obvious ploy to make us spend more money. Additionally, I was served real meat – it was definitely pork, and not shitake mushroom as the owner insisted. Will never go back. – Luke, Belfast.
14 out of 16 users found this review helpful.
Kitty's Kitchen is no longer listed as 'Vegetarian'. HappyVegetarian.com has relisted Kitty's Kitchen as 'Veg-Friendly'.
Good food, inappropriate service.
We booked Kitty's Kitchen for a private function, on the back of a recommendation from a friend. We found the proprietor to be extremely helpful, and she prepared a wonderful spread. Unfortunately, despite our protests, she insisted on playing Nina Simone's "I Got Life" on the squeeze box for the duration of our buffet. As a funeral party, we found this most distressing. – Clive, Kent.
18 out of 20 users found this review helpful.
Owner is mental – AVOID!!
The place stank, the owner was clearly high and she kept talking to someone called 'Mark' even though we could clearly see there were no other members of staff present. She served us all a meat stew that we did not order, and laughed when we said we were vegetarian. She showed us an old packet from some mock-meat sausages, but we had quite clearly been served a pork broth. There were slices of pork in it! We went to the taco place down the street instead, and were very satisfied with our meal. – Tatty & Claudia, New Orleans.
24 out of 30 users found this review helpful.
Disappointed!
We were really looking forward to eating here as it used to be our favourite restaurant, and found it closed until further notice. There was a lot of police tape pinned around the entrance – we hope everything's okay, Kitty! – George & Justine, Cornwall.
0 out of 0 users found this review helpful.
KITTY'S KITCHEN RIP!!
We were on a walking tour of notorious London, and were thrilled to see Kitty's Kitchen is still intact! Obviously most of the furniture was taken as evidence, but her infamous squeeze box was visible on one of the tables! Amazing! – Nate & Dave, Maine.
0 out of 0 users found this review helpful.
Notorious London Walks
NotoriousLondonWalks.com invites you to discover the locations of London's most gruesome crimes! See Kitty the Cannibal Killer's famous restaurant, the location of one of London's most toe-curling killings! Notorious Kitty Miller murdered her husband in cold blood on the premises and smuggled his body out of the restaurant… by serving it to her dinner guests! Hear the full story in chilling detail by visiting NotoriousLondonWalks.com today! – NotoriousLondonWalks.com, London.
0 out of 0 users found this review helpful.
This review has been flagged as spam by HappyVegetarian.com.
No Title
We were really keen to see Kitty's Cannibal Kitchen, and were disappointed to find an Ethiopian restaurant in its place. The new owners refused to talk to us about the old restaurant and were quite rude when we asked about ghosts. – Seb & D, Northampton.
Update by HappyVegetarian.com: Abyssinia Ethiopian restaurant has relocated. Click here for reviews.
No Title
The original Kitty's "Cannibal" Kitchen has been transformed into an awesome gothic-themed restaurant. We enjoyed beetroot risotto – a dish found on Cannibal Kitty's original menu! – and really enjoyed the evening's ghoulish entertainment. Best feature – a candlelit table is permanently reserved for the ghosts of Kitty and her poor husband! Wasn't much choice for vegetarians though. – Raven & Vashe, The Grave.
3 out of 5 users found this review helpful.
NOT VEGETARIAN
The new theme-restaurant is NOT vegetarian, with few vegetarian dishes on the menu. – Angry, Nottingham.
5 out of 5 users found this review helpful.
HappyVegetarian.com has removed Kitty's Kitchen from their listings.
---