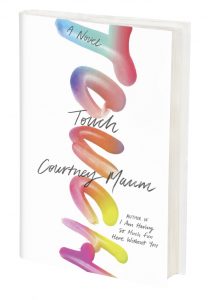 (G.P. Putnam's Sons, 2017)
REVIEWED BY DAVID PLICK
–
I'm sitting here in this café on my laptop typing out a review of Touch, remembering that as I walked in here I inquired whether or not they had wifi, and when I heard the answer was no, I had to force myself to not be annoyed. "Okay," I thought to myself, calming down. "I can do other things . . . Like, write that review for Courtney's book. I don't need internet for that."
Let me describe this horrible café with no wifi. It has high ceilings with exposed heating vents and painted steel rafters—the obligatory industrial chic décor—atmospheric geometric art everywhere, Allman Brothers' "Blue Sky" is playing on the radio (I remembered how much I loved that song), a large communal table with plants all over it. Actually, come to think of it, living plants are everywhere. The windows are open, and the summer heat isn't stifling. Also, it's in Williamsburg, Brooklyn, so there are interesting characters moving in and out of the café and on the street (I've been here twenty minutes and I've already seen a French woman yell at a man for nearly spilling his coffee on her). This is all to say, what reason do I have to want to leave this place—the present, where I am, with these wonderful people—to disappear into the world of the internet? Is it because I've been programmed to be that way (and is that an acceptable excuse?)?
This is what Touch is about—how we're moving further and further from each other, yet all we truly seek is intimacy, for someone else to know and understand us deeply, our true selves, not our avatars, or our feeds, or our digital presence.
Touch tells the story of Sloane Jacobsen, a trend forecaster who lives the life that most cosmopolitan people dream of. A self-identifying "anti-breeder" who moves from Paris to New York to lead a technology/commerce behemoth (imagine if Amazon and Google had a baby) called Mammoth through a three-day conference with trendsetters from around the world called "ReProduction". Their tagline: "What will we make when we stop making kids?" Mammoth also carts her around New York in a self-driving AI automobile named Anastasia who becomes her best friend. On the surface, her life sounds thrilling.
Not to mention she also has an overachiever French boyfriend named Roman, a sex-intellectual (a "neosensualist") who gets 700,000 likes on his Instagram posts, has his articles published in New York magazine, and is into Zentai suit onesies (As ridiculous as some of the characters seem in this book, they are rendered with absolute truth and humanity.).
But of course, it's not that easy. She and Roman haven't had sex in eighteen months (he doesn't believe in penetration). Practically every time he opens his mouth to tell her how amazing his life is, she wants to scream. He won't touch her, so she eventually finds someone willing to. This person, at first, is herself. Touch has some playful and intimate masturbation scenes with Sloane, told by Maum in a fearless way. For example, there's a scene where Sloane watches pornography while pleasuring herself (her stupid boyfriend ends up walking in), and while she snidely and subtly mocks the artfulness of the porn, she absolutely revels in it. Sloane, after being restrained and quieted in her desire, bursts to feel something. Anything.
Also, after living in Paris for ten years, she's completely alienated from her family. Upon returning to the US, Sloane is reminded constantly of the death of her father. It's clear that she's never been able to process his death in Paris, that she never spoke to Roman about this. For years she quietly mourned the loss, but now that she's home she tries to reconnect with the people who understand what she's going through—her mom, her sister, her brother-in-law. But after ignoring them for years, it's not like they'll just forget what happened, and take her back with open arms. There are a lot of wounds being reopened, and resentments that are rising to the surface.
Sloane's final trend forecast in the book, something that makes the CEO of Mammoth furious, is that people will seek to abandon technology for human interaction. Sloane has achieved legendary success, lived in the fanciest neighborhoods in the most chic cities in the world, a true fashion and social elite, yet all she wants in this world is to be touched.
Much like the film Her, Touch is funny but also a warning sign of things to come. An important reminder that we should go into cafes with no wifi, and revel in the simple and beautiful art of spending time with another human being.
 –
David Plick is the founder and editor of the online lit and humor magazine Down & Out, and a former Henry Roth Fiction Scholar at The City University of New York. His work has been in Fiction, ArchDaily, The Collagist, Entropy, Fiction Advocate, Word Riot, Philadelphia Review of Books, and other places. A New Jersey native, he currently lives in Brooklyn and teaches writing at Guttman Community College.