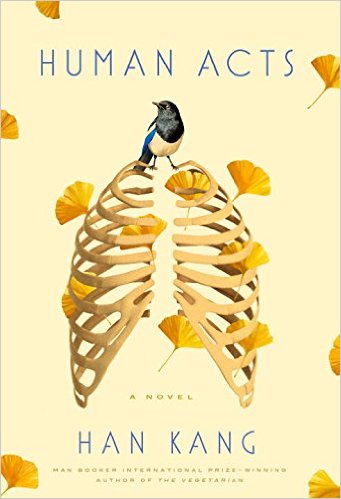 Hogarth Books, 2017
REVIEWED BY MATT E. LEWIS
—
Can something be called a war crime, if there was no war? If a government truly wishes to obliterate the occurrence of a despicable act they committed, can they do so with only a well-placed bullet or torture or destruction of physical evidence? Or do they accidentally create something immortal – a memory of a person that is lodged in the minds of family and witnesses forever, like shrapnel that burrows into the body and aches in cold weather? These are the kinds of questions asked by the people in Han Kang's newly translated book, Human Acts, which focuses on the connection between multiple people surrounding the death of a teenage boy during the South Korean "Gwangju Uprising" of 1980. It was during this time that a South Korean president, Park Chung-hee, was installed in power via a coup d'etat, declared martial law, and used lethal force against unarmed civilians and unspeakable torture on those deemed to be enemies of the state. Kang uses several perspectives in her writing to capture this snapshot in time, this all-too-recent authoritarian massacre, and the lasting effects on the people that survived it. Best known for her bestselling book, The Vegetarian, which examines the brutality in which gender roles can be enforced, Human Acts looks at another aspect in which humanity reveals its ugly, violent, primal nature – when those in power seek control, by any means necessary.
The books starts with a teenage boy, Dong-ho, searching for his friend in a gymnasium converted into a morgue. He is soon conscripted into service in the task of recording data about the corpses of those killed in the protests. In this way Kang begins a conversation repeated throughout the novel, the question of when exactly a soul leaves a body, what separates a human being from a rotting corpse, and how one can grapple with a person you once knew putrefying in front of you. During the course of his work, the banality of Dong-ho's work – cataloging things like the height, gender, clothes, and shoe brand on the corpse – demonstrates the parallel with the banality of the evil that put them there, the indiscriminate and merciless killing of unarmed protesters, whose only crime was to intellectually oppose a government run by brutal thugs. Dong-ho hopes to find Jeong-dae and his disappeared sister, Jeong-mi, alive, despite the fact that he watched a bullet cut down Jeong-dae at the beginning of the protest. Without the confirmation of the physical body of his friend, he continues to engage in magical thinking, a way of coping with such a brutal loss at such a young age. As if in response to this, Kang begins the next section with the narrative of Jeong-dae's spirit, still stuck to his rotting body as soldiers dump him and others in a field to be burned. Jeong-dae's spirit mourns for the loss of his potential life, and seethes with the anger of his mindless execution. He meditates on the lives of the soldiers that killed him:
"I want to see their faces, to hover above their sleeping eyelids like a guttering flame, to slip inside their dreams, spend the nights flaring in through their forehead, their eyelids. Until their nightmares are filled with my eyes, my eyes as blood drains out. Until they hear my voice asking, demanding, why."
It's not just the dead who ask these questions, but the living as well. One of the women working at the gymnasium, Eun-sook, sees things in Gwangju that attempt to normalize the landscape of the town. Specifically, the water fountain at the center square is turned back on again, which is the government's subtle way of disregarding the sacrifice of the protesters. Instead of going along with this underhanded legitimization of the corrupt ruler, she complains to her town provincial office: "What I mean is, how can it have started operating again already? It's been dry ever since the uprising began and now it's back on again, as though everything's back to normal. How can that be possible?" Eun-sook soon learns that in times of martial law and authoritarian control, even such benign protests can have serious repercussions. When working as an editor, she witnesses mass censorship of texts that disagree with the government, and she herself is viciously questioned and beaten in her connection to it. Kang finds beautiful ways in which to respond to these fascist tactics, such as when Eun-sook attends a play with the censored language that she worked on, only to find that the actors soundlessly mouth the forbidden words instead of actually speaking them. It is in this dialogue that a quote is made that reverberates for nearly every character in the book, a kind of elegy for those who survived this horror: "After you died I couldn't hold a funeral, so my life became a funeral."
Human Acts has moments when it gorgeously exemplifies the spirit of dissent, and the characters who choose to stand, even when faced with death and torture. The mothers of children killed in the protest risk their own life to demonstrate at the president's parade through Gwangju, thrown in jail again and again for the crime of their morning. The account of a prisoner who, though savaged by the guards and conditions of his political imprisonment, looks at his actions with pride rather than regret.
"I remember feeling that it was all right to die; I felt the blood of a hundred thousand hearts surging together into one enormous artery, fresh and clean…the sublime enormity of a single heart, pulsing blood through that vessel and into my own. I dared to feel a part of it."
While such a triumph of hope is possible in the face of this dark time, the core focus of Human Acts is the remembrance of the pain of loss, which in itself is an act of dissonance against fascist revisionism. The last part of the book is Kang's own account of her experience during the uprising, and of the later discovery of the story of Dong-ho, which moved her to write the book. After pouring over stacks of documents relating to the uprising and interviewing those that knew him, Kang finds herself haunted by what she has learned – she becomes plagued by nightmares of being bayoneted by soldiers, finding herself in dreamlike recreations of the situations these people had faced. Even at a friend's wedding, surrounded by happy, well-dressed peers, she finds herself plagued by the survivor's guilt that the research has inflicted on her. "How was such a scene possible, when so many people had died?" she asks herself, still shaken by the connection of the horrors her research has to reality. But she finds solace in the fact that "Human Acts" accomplishes the goal of any account of a crime against humanity seeks to achieve – the fact that these events, these people, these names are not forgotten or lost to history. To do so disrespects the memory of their sacrifice and the eternal ache of loss felt by their loved ones. Perhaps most timely is the lesson that the threat of fascism is not a distant nightmare, but a very real threat, waiting only for an ideal series of events to wedge its way into our lives and cause havoc once again. As such, we as readers must absorb the stories of these people and their lives, allowing their sacrifice to embolden our vigilance and our resolve.