INTERVIEW BY MANDY SHUNNARAH
–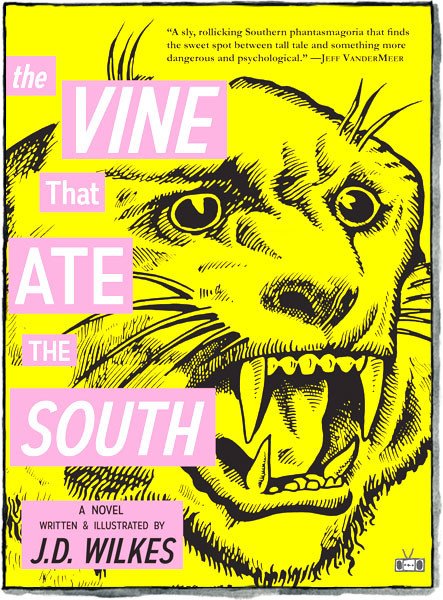 If you grew up in the rural South, you've probably heard tales of big cats, vampires, the Bell Witch, flesh-eating kudzu, and other terrors that go bump in the night. You may have even encountered some yourself, though probably not all in a single outing. Unfortunately for the protagonist of The Vine That Ate the South––and fortunately for us––he did.
Author JD Wilkes spared hardly a Southern folk demon in his debut novel, The Vine That Ate the South. It's a Homeric tale of going into The Deadening, a patch of haunted woods in western Kentucky, in hopes of coming out not only alive, but with an adventure tale so heroic as to woo his One True Love away from his sworn enemy.
The ultimate destination of our unnamed hero is The Kudzu House, where legend has it an elderly couple was eaten alive by carnivorous kudzu and their skeletons can still be seen strung up by the hungry vine, like two burned out bulbs on a strand of morbid Christmas lights.
When the myriad of Southern haints and frightful creatures are encountered alongside the more corporeal menaces, like trigger-happy hunters and murderous Masons, you're not entirely certain what's real and what's not––and that's where the magic happens. Rather than a moonlight-and-magnolias glorification of the South, Wilkes shows just how fearsome it can be––literally and figuratively.
The Vine That Ate the South is not only suspenseful, but also uproariously funny. Whether he's recounting a run-in with a lisping, overly eager pastor or remembering the day his girlfriend-stealing nemesis found his family's "shit knife," our protagonist is like that hilarious uncle who always tells the best stories, genuinely unaware of his natural talent for comedy.
The style and tone of the novel, as well as its deft storytelling, mirrors the music of the band The Legendary Shack Shakers, of which Wilkes is the frontman. With the band's punk, blues, and rockabilly tunes, lyrics rife with apocalyptic Biblical references and Wilkes' onstage persona as a Southern gothic preacher, The Vine That Ate the South is like a Legendary Shack Shakers show contained between two French flaps.
I talked to Wilkes about his writing process, his influences and his varied artistic talents.
Shunnarah: I so enjoyed The Vine That Ate the South. The story kept me turning pages well after I probably should've gone to bed. The novel reads like a bard finally wrote down the South's oral mythic history. Were you conscious of that bard-like quality as you were writing? How do you think the oral tradition plays into Southern culture?
Wilkes: I wanted the book to read in a "high prose," florid manner that mirrored the lushness of the Kudzu. The words needed to overwhelm you at times. But I also tried to cut it back and clear room––much like the characters do with their machetes––by allowing plain speech in spots. That way you hopefully get a nice balance of old-school verbosity and simple Southern humor and wisdom.
Shunnarah: I know The Vine That Ate the South wouldn't be considered a humor book, but there were parts where I laughed so hard I couldn't breathe. I'm curious to hear more about your thoughts on how humor factors into Southern culture and storytelling.
Wilkes: I think humor is or should be a part of Southern writing. Flannery O'Connor was satirical and humorous, of course. John Faulkner is a bigger influence on me than his brother William.
Irvin S. Cobb, from Paducah, Kentucky, is too. To write about a place with such an intense history, one must occasionally pop air into it. Levity is what keeps novels like mine from descending into depressing historical fiction or even horror.
Shunnarah: It seems like going exploring in the woods and seeing at least one big cat or mythical creature is a Southern rite of passage. I say that having explored some creepy shacks and seen a big cat or two myself. I'm curious to know if your own explorations and otherworldly encounters fueled some of the scenes in The Vine That Ate the South.
Wilkes: Yes, I also enjoy walking around in abandoned places in the woods, ha! Careful we don't get shot!
One place nearby is an actual ghost town in the woods along Clarks River. It's called Carter Mill (it's talked about in the novel) and there's nothing like letting your imagination run wild through all those old dilapidated timbers and tar paper. You can even make up your own stories about what happened there… mix it in with the truth a little. Let the storytelling take on a life of its own. It's something I did as a kid and still do.
Shunnarah: I noticed that the unnamed protagonist calls his companion in adventure, Carver, "crazy" on several occasions. Though Carver is his best friend, he's self-aware enough to know Carver has a few screws loose. As someone who calls the South home––but who has left, traveled the world, and come back––are there times when you feel like an outsider like the protagonist, too?
Wilkes: I think I'm secretly jealous of people like Carver, a simple redneck who can handle himself in any situation. He's not that nuanced and he's the absolute opposite of an intellectual. But it's his ability to blend into the wild that makes the main character wonder if he's just crazy… Carver even seems to be an extension of the terrible forest itself. But I see the character as less crazy and more visceral, even feral. A man in complete union with nature at its deadliest.
Shunnarah: Your first book, Barn Dances and Jamborees Across Kentucky, was a work of nonfiction published by History Press. Did you always know you wanted to write a novel at some point or was there something about writing Barn Dances and Jamborees that inspired you in that direction?
Wilkes: I never dreamed of really writing a novel. It was really all just a lark.
While on tour with my band in Norway, I cracked a laptop open for a light source while riding through a long tunnel in the mountains. I was homesick so I figured, "Hell… Why not start waxing poetic about Kentucky?" Those Arctic Circle surroundings might've inspired my slightly-Tolkienesque approach, though. It really looks like Middle Earth up there!
So I reckon I just started thinking about the lore of the South, as opposed to the Anglo-Saxon stuff that Tolkien studied. Thinking about how we have stories, too.
Shunnarah: In addition to writing the novel, you drew all the illustrations. And on top of that you're an accomplished musician, both as a solo artist and as a member of multiple bands, most famously The Legendary Shack Shakers, and a filmmaker. How does your love of one inspire and influence the others?
Wilkes: All my pursuits are aimed at telling the same kind of story: epic southern mythology. So there's always this overarching theme despite the varied media I dabble in. Each medium is just a different discipline that I have learned "good enough" to get the stories across to the public. The hope is that each and every creation will combine to form my own little universe, one that people will enjoy visiting from time to time.
Shunnarah: What's next for you? I'm interested in any creative projects you're working on, though I'm especially curious to know if there are more books in the works.
Wilkes: There's a solo record in the works with some of the Squirrel Nut Zippers guesting. There will be another mural project or two––I just did a large painting for the historic Coke Plant in Paducah. And I'm always writing tunes for The Legendary Shack Shakers. New album comes out in April!
Despite the workload, I'm still vaguely entertaining Carver's next move, way in the back of my brain. Wonder what he'll do next …
__
Mandy Shunnarah is a writer based in Columbus, Ohio, though Birmingham, Alabama, will always have her heart. Her creative nonfiction essays and book reviews have appeared in The Missing Slate, Entropy Magazine, Deep South Magazine, and The New Southerner Magazine, where she won Honorable Mention in their 2016 contest. You can read more of her work at her website, OffTheBeatenShelf.com.