INTERVIEW BY LAURA METTER

–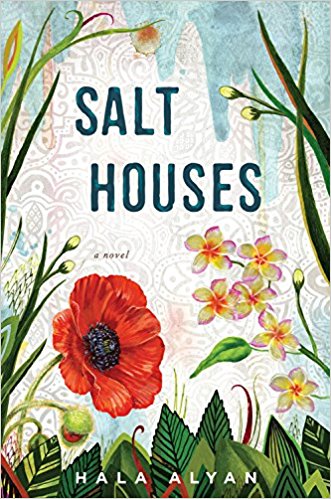 Hala Alyan is an award-winning Palestinian American poet, novelist, and clinical psychologist and most recently, the author of Salt Houses (Houghton Mifflin Harcourt, 2017). But after the long-form fiction, Alyan's already back to working within poetry, a place she knows well–past collections include Atrium (2012), winner of the 2013 Arab American Book Award in Poetry, Four Cities (2015), and Hijra (Southern Illinois University Press, 2016), winner of the Crab Orchard Series in Poetry.
I talked to Hala about the work, its thematic concerns, and her poetic process.
Laura Metter: Why poetry after a novel?
Hala Alyan: These pieces came organically after I was finished with Salt Houses and had sent the novel off to my publishers for editing. I wrote many of them during a trip to Marfa, Texas last year. I don't usually plan which genre follows the other; actually, most of the time, I'm working on several projects at once. It helps me stay excited about what I'm working on.
LM: Is there a connection between these poems and your novel?
HA: My new collection is a meditation on the transforming landscapes of womanhood, wifedom, loss and exile. To a certain extent, both the collection and the novel use language as a cultural vehicle of sorts, trying to create a dialogue between two worlds: my American existence and my Arab one, exile and the rebuilding of life in its aftermath.
LM: What went into your process of selection or sharing?
HA: They were painful ones to write, but completing them felt particularly cathartic. Given the legacy of immigration and war in my ancestral homelands, I wanted to share poems that examine that migration, both literally and emotionally.
LM: How do these poems connect to yourself?
HA: They were all written during my actual twenty-ninth year, which was a strange and difficult and marvelous one. In many ways, this collection is my most honest, the one in which I am most transparently myself.
LM: Is there a theme?
HA: If I had to pick one, it would be—the creation of home when all one knows is exile and flight.
LM: What were some of your biggest challenges getting this book finished?
HA: In terms of Salt Houses, I would say discipline when it came to editing was particularly overwhelming. I would keep losing interest and want to start writing something new. I have the easiest time with the "freeflow" part of the writing process, and am most stumped by editing, rereading the same passages over and over. I get so bored…
LM: What helped you finish this collection?
HA: I was lucky enough to secure a couple of residencies over the last year that gave me enough time and space—not to mention access to nature and inspiring artists—to put the final touches on the manuscript.
LM: Do you see yourself continuing more with novels or poems?
HA: Hopefully both. The one thing I'm really excited about experimenting more with is non-fiction, especially personal essays.
LM: What do you want your audience to take away from this collection?
HA: Honesty requires a little fear, at least the way I do it. I'm hoping readers can recognize the truth in these pieces, that they felt urgent and necessary to write. Also, I hope I've done the narrative of immigration—as I experienced it in my family—justice.
__
Laura Metter is a young fictionist and poet based in Greenwich, Connecticut. Her poems and essays have appeared in Adanna Literary Journal and The Artifice among other magazines.
__
Below is an excerpt of Hala Alyan's forthcoming poetry collection:
Dirty Girl
See, I knew I'd make my mama cry if I stole the earring and so into my pocket it went. I asked America to give
~
me the barbeque. A slow dance with a cowboy. Pop goes the grenade. Pop goes the Brooklyn jukebox. Give me male hands, oleander white, hard, earnest, your husband in the backseat of his own car, my jeans shoved down, the toxic plant you named your child after, a freeway by the amusement park that jilted girls speed across, windows rolled down, screaming bad songs at the top of their lungs.
~
After the new world. Before the New one. The Peruvian numerologist told me I'd be trailed by sevens until the day I died.
Everything worth nicking needs an explanation: I slept with one man because the moon, I slept with the other because who cares, we're expats, the black rhinos are dying, the subway pastors can't make me tell the truth. Tonight Z isn't eating and five states away
I'm pouring a whiskey
~
I won't drink.
~
I count the green lights. Those blue-eyed flowers your father brought when I couldn't leave my bedroom. The rooftop, the weather, the subway empties its fist of me, the red salt of my fear. A chalky seven stamped on the pale face of the sleeping pill.                          What I mean to say is
~
I'm divisible only by myself.
Gospel: Texas
Poison ivy I
never got. My grandmother
asking the Burger King cashier
for pommes frites.
First shooting
star. First silverfish. First carrot
in snowball. Kansas on the
weekends, the blade
of I-35. Permission slips.
My mother
dressing me as a
pilgrim for a school trip.
Arabic word for girl
longer than
English word for
no. First valentine card.
First grasshopper.
The seventeen windows
of that simulated
colonial town,
peering in every
single one. Pretending
the air we churn
is butter.
The Female of the Species
They leave the country with gasping babies and suitcases
full of spices and cassettes. In airports,
they line themselves up like wine bottles.
The new city twinkles beneath an onion-moon.
Birds mistake the pebbles of glass on the
black asphalt for bread crumbs.
*
If I drink, I tell stories about the women I know.
They break dinner plates. They marry impulsively.
When I was a child I watched my aunt throw a halo
of spaghetti at my mother. I'm older than they were now.
*
In an old-new year, my cousin shouts ana bint Beirut
at the sleeping houses. She clatters up the stairs.
I never remember to tell her anything. Not the dream
where I can't yell loud enough for her to stop running.
And the train comes. And the amar layers the stones
like lichen. How the best night of my life was the one
she danced with me in Paris, sharing a hostel bed,
and how sometimes you need one knife to carve another.
*
It's raining in two cities at once. The Vendôme plaza
fills with water and the dream, the fountain, the moon
explodes open, so that Layal, Beirut last daughter,
can walk through the exit wound.