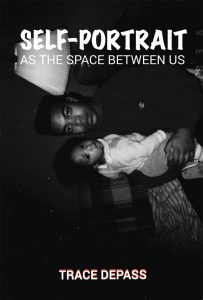 SELF-PORTRAIT AS THE SPACE BETWEEN US
by Trace DePass
Poetry
ISBN: 9781948587037
[PANK] Big Books 2018
70 Pages
Price: $16.00
SHIPS MAY 2018
Order Here
And, of course, a natural inquiry is made: whose children will you mourning as you still love? How many can you mourn all at once and is there an end? Will the condolence for us all ever rest outside the comma? I tug the reader, yes, place them befuddled in what befuddles me. Some days, this work was the only body with which I would feel safe to watch the rooms inside me be processed, accessed, revisited; if it too carries endless oscillating rooms, a black tesseract might be another attempt at the human's time here.
from the poem "The Tesseract Tethers Rooms"
i tire of death, relative to me, not passing, in 3D. i need this divorce.
you go writ(h)e,
go anthropomorphize rot incessant all thru my body. look! there's ceiling to this
passivity: dirt. here's this room i've named —
me.
outside that room lives just my other room,
another empty tomb, maybe
a separate cube,
which, after peering at it for long enough, i too
on some days become. watch: i've lost
track of my own tesseract face
Bio
Trace Howard DePass, a 2018 Poets House Fellow, is the author of Self-portrait as the space between us (PANK Books, 2018) and editor of Scholastic's Best Teen Writing of 2017. He served as the 2016 Teen Poet Laureate for the Borough of Queens. His work has been featured on BET Next Level, Billboard, Blavity, NPR's The Takeaway, and also resides in literary homes: Anomalous Press (fka Drunken Boat), Entropy Magazine, Split This Rock!, The Other Side of Violet, Best Teen Writing of 2015, & the East Coast Voices Anthology. Trace aims to blur the lines between the narrative arc and what is percussive.
_______________________________________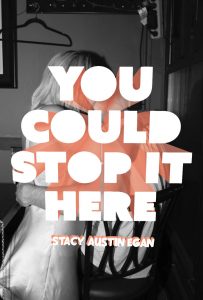 YOU COULD STOP IT HERE
by Stacy Austin Egan
Short Stories
ISBN: 9781948587020
[PANK] Little Book Series 2018
52 Pages
Price: $12.00
SHIPS MAY 2018
Order Here
You Could Stop It Here is about girls who are trapped. From the suburbs of Austin to the sublets of New York City, they are searching for an escape from destructive relationships, parents caught up in second romances and Bunko, and the embarrassments of adolescence. Their beliefs that bravery is transformative lead them to make risky decisions that promise shaky rewards: the attentions of an older lover, an idolized sister's approval, or the preservation of a forbidden relationship. This is a collection about accepting the wrong invitations, the rush to be unburdened by innocence, and the desires, both juvenile and inevitable, that fuel irreparable mistakes. It is about the desperation and longing inherent in the struggle to become whole, and the realization that adulthood won't protect us from hurt.
Blurbs
"You Could Stop it Here is alluring, winsome, sneaky, and sharp. I felt captivated at the same time that I felt lucky to be reading this slim treasure, soaking in its light. Stacy Austin Egan is the real thing."
– Lindsay Hunter, author of Eat Only When You're Hungry, Ugly Girls, and Don't Kiss Me
"This small book contains stories of youth and all the stumbling and anguish that comes with it. With nimble, light-footed prose, Egan gives readers a funny, moving, and honest picture of the life of young women and girls."
– Timothy Willis Sanders, author of Matt Meets Vik and Orange Juice and Other Stories
Bio
Stacy Austin Egan's fiction has appeared in Driftwood Press, WomenArts Quarterly Journal, The New Plains Review, and The MacGuffin. She holds an MFA from McNeese State University. A native of Austin, Texas, she currently resides in the west Texas desert where she teaches writing and literature at Midland College. She and her husband are expecting a daughter this spring.
_______________________________________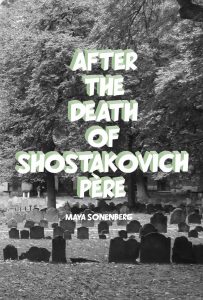 AFTER THE DEATH OF SHOSTAKOVICH PÈRE
by Maya Sonenberg
Memoir/Personal Essay
ISBN: 9781948587013
[PANK] Little Book Series 2018
48 Pages
Price: $12.00
SHIPS MAY 2018
Order Here
Not all ghosts exact revenge or induce terror. Some emerge from a miasma of grief; sad themselves, they spread sorrow. Or perhaps those left behind—daughters and sons—create the ghost of a father, trying to find what's surely been lost. Following the four-movement structure of Shostakovich's Suite for Two Pianos and using a mosaic of story, memoir, photographs, literary analysis, and her own father's journals, Maya Sonenberg's After the Death of Shostakovich Père is an extended lyric meditation on the death of fathers, both biological and artistic, and the ways in which haunting can produce art.
Blurbs
If you followed along with the score of Dmitri Shostakovich's Suite for Two Pianos, you might arrive at/After the Death of Shostakovich Père.
A chording of song, art, and elegy, Maya Sonenberg is a master of tone and rhythm, sorrow and vision—and then the chord resolves itself, and it
is revelatory.
-Lily Hoang, aAuthor of Changing and A Bestiary
Hermes made the lyre out of a tortoise shell, cattle horns, and catgut, transforming dead animal parts into a sublime musical instrument. Wily Maya Sonenberg here transgresses her own set of categories, generates in her shape-shifting prose of After the Death of Shostakovich Pere, her own lyric, braided Sonenbergian book of remembered memory music. Like The Rings of Saturn (the book, yes, but also the phenomenon of nature) this collage of star-dusted debris and despair is woven into a worldly and wordly accessory, that signifies the grave mystery of gravity at the same time it defies, with the lightest of touches, the weight and the wait of the world it encircles—all its graves and even entropy itself. Bones, viscera, guts (the organic plastic we inhabit) are turned into the eternally ethereal.
-Michael Martone, author of Michael Martone and Winesburg, Indiana
Bio
Maya Sonenberg is the author of the story collections Cartographies (winner of the Drue Heinz Prize for Literature) and Voices from the Blue Hotel. 26 Abductions, a chapbook of her prose and drawings was published in 2015 by The Cupboard. Other fiction and nonfiction have appeared in Fairy Tale Review, Web Conjunctions, DIAGRAM, New Ohio Review, The Literarian, Lady Churchill's Rosebud Wristlet, Hotel Amerika, and numerous other journals, both in print and online. Her writing has received grants from the Washington State Arts Commission and King County 4Culture. She teaches in the creative writing program at the University of Washington.
_______________________________________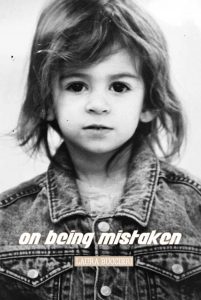 ON BEING MISTAKEN
by Laura Buccieri
Poetry
ISBN: 9781948587006
[PANK] Little Book Series 2018
62 Pages
Price: $14.00
SHIPS MAY 2018
Order Here
Laura Buccieri observes, confronts, and explores queer womanhood in her collection On Being Mistaken. Buccieri writes, "i am the only thing i will carry," but she manages to not only carry us through the implications of a society that "others," but she also drops us into language that resists and jabs at that exact act of "othering." This is an exciting, experimental, and rhythmic voice that creates a space in which we can explore how we are labeled and how we ourselves label. Buccieri doesn't beg for answers but rather urges us to expand our language, assumptions, and ideologies.
BLURBS
Of Kristen Stewart and the nature of wanting, Laura Buccieri writes, "i am capable of worship // not on purpose but / i can't help but be / programmed." On Being Mistaken renders the magazine, microagression, and catcall fragment, as the speaker attempts to escape gendered expectations only to find all paths to actualization begin, and end, in the world around us. Buccieri's debut chapbook wrestles with critical and pervasive questions—investigating gender & sexuality, the locus of our too-human desires, and the complexities of enacting otherness within systems. These coming-of-age stories and love poems reject the finality of a sentence. Instead, the poet turns the Western treatment of women back on itself through syntactic blending and multiplicity. Buccieri's sprawling work is experimental and original, and her voice is utterly captivating. If we must struggle to define, if we are forever labeled, if we are forever held to impossible standards, let it be so these poems can exist, awaken, & shake us loose.
—Raena Shirali, author of GILT
Laura Buccieri's On Being Mistaken introduces us to a poet navigating (if not quite dodging) "male bullets flying everywhere on the female screen." These poems have a way of feeling slippery but also solid, which seems like a good way to feel, to persevere. They're full of casually brilliant observations about queer identity and desire, conveyed with a seriousness about living and making that has the added virtue of not taking itself too seriously: "i never wanted us / to be the art." Buccieri is up front in at least two senses of that phrase. I hope more of us can join her there.
—Mark Bibbins, author of They Don't Kill You Because They're Hungry, They Kill You Because They're Full
Laura Buccieri's chapbook is an exquisite collection of poems exploring queer womanhood – and othered womanhood – in a way sorely needed right now. Buccieri's lines are so frank, it often feels as if you're reading words from your own brain, like "i am the only thing i will carry," speaking of how being a woman is seen as a multi-layered identity, but often not just her own. And more importantly, her poems comment on the identities forced on women, and how women are trapped by the perceptions of others. Better yet, however, the collection is also a rally cry, as a way to break those perceptions and shatter the glass ceiling in order to escape, to be free.
—Joanna C. Valente, author of Marys of the Sea & editor of A Shadow Map: An Anthology By Survivors of Sexual Assault
Buccieri evokes lamp-lit desire, secret glances and body worship. Her work exposes a strange relationship to ordinary objects, gender and Google, emblematic of modern fluidity. The poems are generous, defenseless, rhythmic odes in praise of the body they travel.We seem to never inhabit constancy in a Buccieri poem, but learn how to wiggle the zipper over the crotch of confidence. Her syntax, broken on the page, relieves us of our expectations for resolution. Her words are not meant to mend but to confront. We are invited into the rooms of her experience, where we freely trespass the boundary between witness and self. Buccieri wrestles with the beauty she both subverts and exalts. The object lessons of her poems pierce the cishet gaze, in renewal of the feminine.
—Omotara James, author of Mama Wata & Daughter Tongue
Bio
Laura Buccieri's work has appeared in Metatron, Prelude, Lambda Literary, Cosmonauts Avenue, and elsewhere. She is the Publicist at Copper Canyon Press & holds an MFA in poetry from The New School. She resides in NYC and online at laurabuccieri.com.