~by Stanton Hancock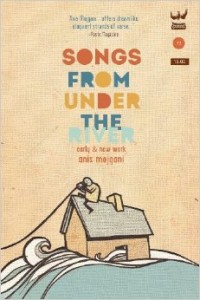 $15/88 pages
If you're not familiar with the poetry of Anis Mojgani, you've most likely been making a concerted effort to not pay attention.  As a two-time National Poetry Slam champion and the winner of the International World Cup Poetry Slam, Mojgani has more than demonstrated his performing prowess.  Likewise, his previous poetry collections The Feather Room and Over the Anvil We Stretch have aptly demonstrated that his poetry sings just as beautifully on the page as it does on the stage.  With his newest collection, Songs From Under the River, Mojgani has pasted together a vivid collage comprised of new works, previously unpublished early poems, and classic staples of his live readings.
Rather than simply present this collection chronologically as would be typical in an anthology such as this, Mojgani has instead compiled a sort of poetry mix-tape.  The poems seem to have no discernable pattern to their organization yet the flow of the collection as a whole is too effective to be merely the result of happenstance.  Instead, the poems leap deftly back and forth through time and capture snapshots of one of modern poetry's strongest voices at various points in his career.
The collection opens with the beaconing stanzas of "Closer."  In this poem, Mojgani invites the reader to join him in a celebration of life and love.  Simultaneously welcoming and defiant, he urges the reader to join him as he extols:
So come closer, come into this. There are birds beating their wings beneath / your breastplate gentle sparrows aching to sing—come aching hearts! Come / soldiers of joy, doormen of truth! Come true-of-heart.
Having dared the reader to open the door and step through, Mojgani wastes no time and follows with two powerful poems – "On The Day His Son Was Born The Astronomer Screamed Out His Window" and "Here Am I" – before slowing things down with the heartfelt memorial poem "I Sing A Song Of Jacob." This moving tribute to a deceased friend skillfully blends melancholy and nostalgia while not forgetting that the best tribute poems celebrate the life that is lost rather than focusing on death.  In this poem, Anis displays razor-sharp precision as he sums up a friendship in the single line; "You were 16 years of my life."
Throughout the collection, Mojgani's voice is prominent in the poems.  From early works through the newer poems, the reader can easily fall into the smooth cadence one would hear at one of his readings.  As with many poets who are known for their performances, Mojgani's verses are steeped in rhythm and one need only see the lines on the page to hear the poet's voice.  Take the popular piece "Direct Orders" as an example.  In a series of short declarations, Mojgani demands that the reader "rock the fuck out."  As the poem progresses, the reader can easily feel the energy of the piece build towards the final, declarative stanza:
Rock out like this was the last weekend, / like these were the last words, / like you don't ever want to forget how.
Songs From Under The River contains so many wonderfully woven strands of wordplay that it is impossible to do it justice in as few words as these.  Mojgani has the rare gift of being to create inspiring works that spring to life on the page with the same passion and fervor as when he takes them to the stage.  They are the stuff of self-sacrifice as Mojgani peels away little pieces of himself and gives them away to the reader.  Take this stanza from his most popular poem "Shake the Dust," which closes out the collection like a band saving its biggest hit for the encore:
Make sure that by the time the fisherman returns you are gone.  Because just / like the days, I burn at both ends and every time I write, every time I open my / eyes, I am cutting out parts of myself just to give them to you.  So shake the / dust.  And take me with you when you do.  For none of this has ever been for / me.  All that pushes and pulls, it pushes for you.
Songs From Under The River will inspire you.  The poems within the pages will stick with you after you set the book aside and go about your day.  Anis Mojgani has an incredible talent for crafting poems that are too dynamic to stay contained in the page and you will not be able to read them without setting them free.  So set them free and pick up this collection.  Whether you read an early piece, a well-known favorite, or a new poem, you'll easily see why Anis Mojgani is one of the strongest voices in contemporary poetry.
***
Stanton Hancock is a writer, poet, and musician from Pennsylvania's Lehigh Valley.  When he isn't writing, you can find him at the local record store.  He has an MFA in Creative Writing from Wilkes University.  His works can be found scribbled on scraps of paper and spray-painted under bridges.  He hopes you enjoy this review.