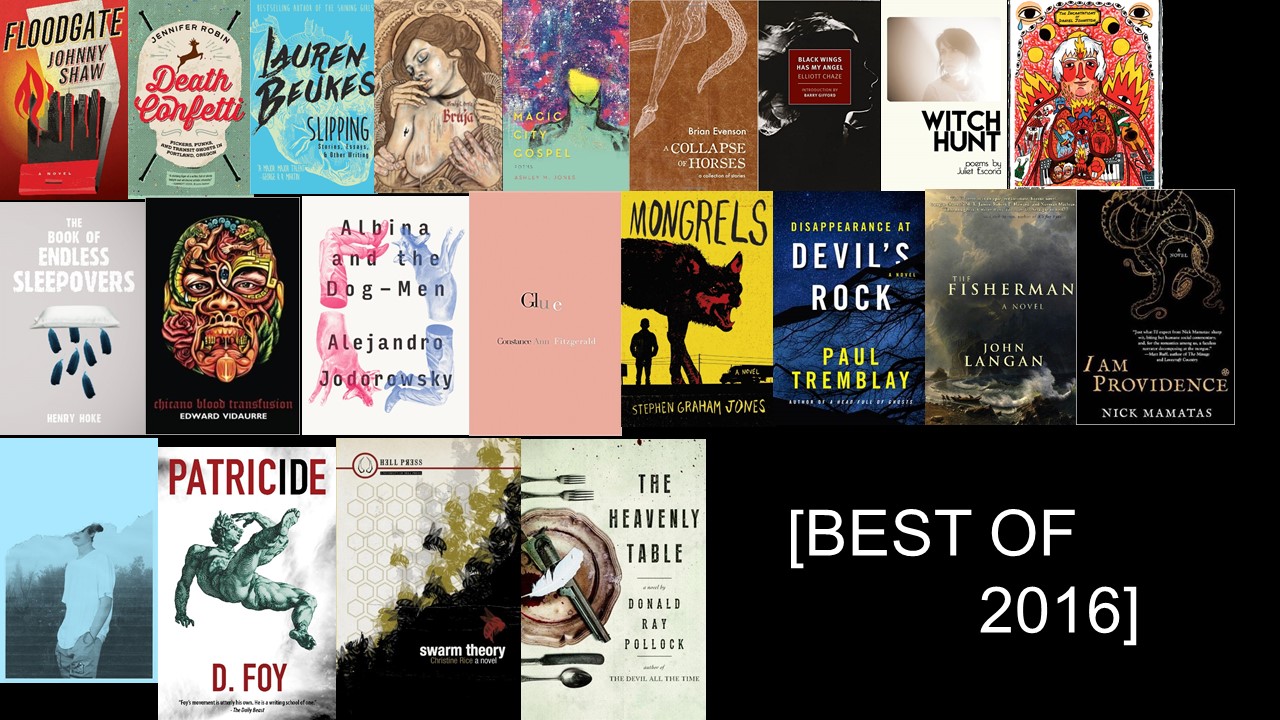 BY GABINO IGLESIAS
—
Last year was such an outstanding year for literature that a top ten list just wouldn't cut it. Horror, literary fiction, poetry, nonfiction, noir; every conceivable genre produced at least a couple of gems that deserve to be on this list. I started the year aiming to read 200 books, which is something I try to do every year. Work, looking for work, too many long books, and writing a dissertation were all elements that got in the way. That being said, I managed to read about 110 books, and here are the best 21 in no particular order:
21. Floodgate by Johnny Shaw. This was fast, fun to read, packed with more action than a superhero movie, and showed a level of worldbuilding that makes it a novel that should be used to teach it. Shaw can do crime, violence, intrigue, and comedy, and all of those can be found in spades here.
20. Death Confetti: Pickers, Punks, and Transit Ghosts in Portland, Oregon by Jennifer Robin. Robin is a performer, writer, and traveler whose life definitely belongs to the small group of those that should be written about. This collection of nonfiction takes place mostly in the streets, on public transportation, and in bars across Portland. The people and situations the author encounters are enough to make it a recommended read, but the outstanding and commanding way in which Robin writes about them make it an absolute must and earn the book a spot on this list.
19. Slipping: Stories, Essays, & Other Writing by Lauren Beukes. One of the first authors to come to mind when thinking about writers who can move in and out of a plethora of genres while simultaneously sounding fresh and unique, Beukes has become a household name thanks to novels that are a bizarre, scary, wildly entertaining mix of science fiction, crime, and horror, and this collection offers more of that.
18. Bruja by Wendy C. Ortiz. What Ortiz does for the memoir here is comparable to what Flaubert's Madam Bovary did for modern realist narration or what Capote's In Cold Blood did for the nonfiction novel. Simply put, Ortiz's "dreamoir" is a new thing and this book will be the starting point for a movement as well as the go-text for all upcoming memoirs that inhabit the interstitial space between reality, memory, very personal surrealism, and dreams.
17. Magic City Gospel by Ashley M. Jones. Going into a poetry collection without being familiar with the author's work is always an adventure. With this book, the adventure yielded a treasure trove of southern imagery, a screaming celebration of roots and culture, and an unapologetically raw view of the female African American experience. This is brave, beautiful, necessary poetry that should be taught in schools and that undoubtedly becomes more important with each dumb step the country takes backwards.
16. A Collapse of Horses by Brian Evenson. Evenson is one of the most talented living writers in the world, and this collection is full of stories in which he proves it time and time again. Sad, strange, creepy, touching, surreal, scary; if you can think it or feel it, Evenson does it here. The best short story collection of 2016 and yet another superb entry into the oeuvre of a man who seems to only get impossibly better with each new offering.
15. Black Wings Has My Angel by Elliott Haze. The folks at the New York Review of Books know how to pick their classics, and this one is my favorite so far. A narrative that still resonates in modern noir's DNA, this is a dark, twisted tale of love, violence, secret agendas, and the way plans have a tendency to crumble.
14. Witch Hunt by Juliet Escoria. This book is full of the kind of poetry that reaches deep inside you, pulls out the ugliest things you have to offer, and then slaps you in the face with them, and Escoria does it all just by sharing her own life. Full of heartbreak, broken relationships, and crippling realizations, this book is what happens when a talented author decides nothing in her past is sacred and exorcises the demons by writing them out.
13. The Incantations of Daniel Johnston by Scott McClanahan and Ricardo Cavolo. This is the only graphic book on the list, and it's more of a surreal biography than a novel. Touching and magical, Cavolo's art and MacClanahan's words combine perfectly to offer readers a look inside the brain and soul of an outstanding artist tortured by mental illness and haunted by demons most of us can't even begin to fathom.
12. The Book of Endless Sleepovers by Henry Hoke. Sometimes a poet is capable of stuffing his entire life into a book, and that's exactly what Hoke did here. The pain, awkwardness, drama, and discoveries of a child transform into the suffering, joy, and blossoming sexuality of a young man, and all of it is filtered through the author's sharp mind and tender heart. By the time I was done with this, I wanted to ask a million questions, congratulate Hoke a million times on his accomplishment, and give him a million hugs.
11. Chicano Blood Transfusion by Edward Vidaurre. El barrio has a heart that spans the globe, and Vidaurre taps into it to write poesía with a lot of truth and feeling. Readers will find the usual themes here, but also a range of new ones and different, unique experiences and memories. La poesía del barrio has a new voice in Vidaurre, and I can't wait to see what he does next.
10. Albina and the Dog-Men by Alejandro Jodorowsky. Just like no film director can compare their work to the bizarre visions created by Jodorowsky, no author can claim to bring together poetry, love narratives, and surrealism to the page the way he does. This is a long, sexualized, mythological fever dream that fits in perfectly with everything Jodoroswky has given us in his long, illustrious career.
9. Glue by Constance Ann Fitzgerald. I read this book on my phone while sitting in my car. I didn't plan on that, but the first few pages hooked me and the rest is history. This is a powerful, autobiographical narrative that deals with loss and coping. Fitzgerald shines at showing us that being broken and not knowing how to handle things is a perfectly normal part of being human.

8. Mongrels by Stephen Graham Jones. Sure, this is a werewolf novel, but it's also an outstanding noir, a fantastic YA narrative, an emotional family saga, and a great road trip tale. Jones has always managed to work in many genres at once, and this one stands amongst his best work to date, which is saying a lot.
7. Disappearance at Devil's Rock by Paul Tremblay. Anguish and loss are at the core of this creepy narrative. The disappearance of a young son is the vehicle Tremblay uses to scare readers, but it's also the event he uses to deconstruct the way humans (re)act under pressure and how an event can make people collapse. This is another author than only gets better with each new book, and I eagerly await whatever he puts out next.
6. The Fisherman by John Langan. I'll keep this one short: the mythos book that will be talked about and discussed twenty years from now? This one.
5. I Am Providence by Nick Mamatas. A scathing academic deconstruction of the Lovecraftian scene and its problems would collect dust in university libraries across the country, so instead of doing that, Mamatas wrapped it all up in a wildly entertaining and surprisingly funny novel about a murder at a Lovecraftian convention. If you care about the destruction of racism and misogyny but don't mind doing it with a smile on your face, this book is for you.
4. Novi Sad by Jeff Jackson. Post-apocalyptic fiction done right. Tense, gloomy, strange, and poetic. This is the shortest novella on this list, and it packs as big a punch as anything else on this list.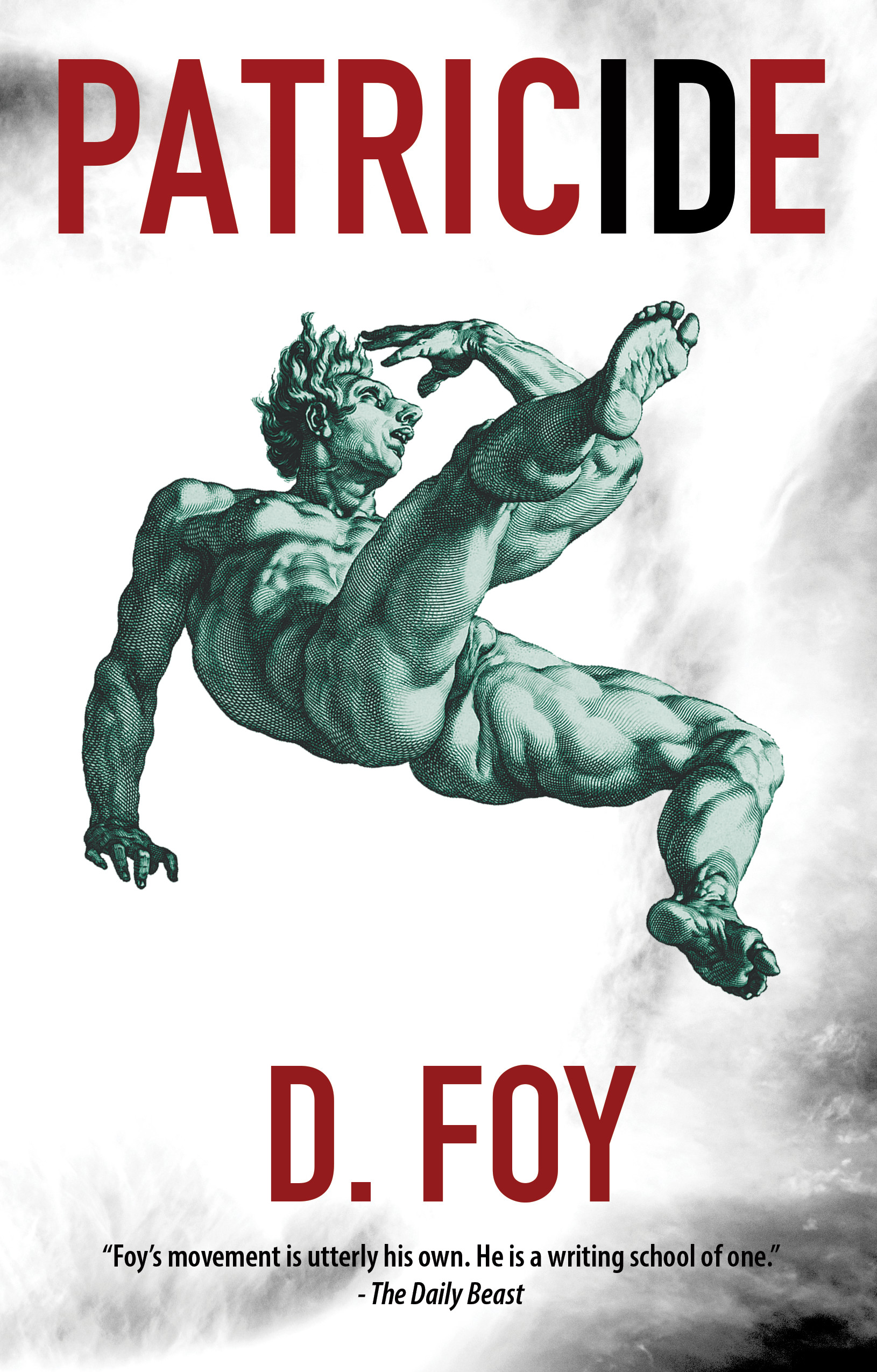 3. Patricide by D. Foy. The best literary novel of 2016. Smart, fast, violent, philosophical, and possessing a depth that most literary fiction can only dream of. Foy is an author whose work will be talked about a lot in the near future. I suggest to start reading him now.
2. Swarm Theory by Christine Rice. I could write ten pages on the way Rice weaved together a narrative about a whole town and all its denizens, but that would probably bore you. Instead, I'll say this: Swarm Theory is the most impressive book about a town/plethora of characters that I've read since devouring Camilo Jose Cela's The Hive, and remember that Cela got a Nobel in Literature in 1989.
1. The Heavenly Table by Donald Ray Pollock. Along with Jones and Evenson, Pollock is a national treasure whose work constantly mesmerizes readers. Hilarious, vicious, filthy, and smart, this story of brotherhood, death, and crime was one of the few true literary gems published by one of the Big Five in 2016.