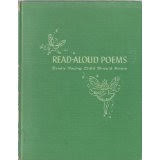 Review by Susan Marque
I have been thinking a lot about home recently. The lack of having one, and my fourteen moves in the last four years, to various short-term rentals, which means I have few possessions. A thin, light green hardcover remains a symbol of home for me. It is one of the items that has always been with my parents, alongside a vase from my grandmother, and a numbered Lichtenstein lithograph. My parents have lived in six houses, in four states, taking a smaller amount of things with them each time they move. I have yet to own a home, have nothing in storage, and travel light.
Read Aloud Poems Every Child Should Know is out of print, but a couple of originals can be found. My mom sent me our brittle copy in the mail so that I could take a look at the poems again. (She made sure that I promised to send it back before my next move, wrapped it in tissue paper, and told me to do the same on its return.)
The slender copy is dog-eared and stained, but there is something about it that still feels fresh, and as magical as when I was small. Ms. Barrows knows how to create both magic, and an experience of home for the reader. She says in the opening "A Word To Parents," that her choice of material was picked after years of research. She doesn't say who did the research, but she had been working in publishing for thirty-seven years by 1957 (the year the book was published). Most of her career was as a children's literature editor, and she wrote a few stories, and poems, of her own. She says these are the poems that children love best. "Little boys and girls, even before they can talk, respond to this magical world of sound and rhythm." While reading the entire intro now makes me cringe with its cheesiness, I was listening to these poems in the womb, when they were read to my older sister. My favorites have always been the ones that were lyrical, read to me over and over. Their rhymes imbedded into what I knew of the world, the characters more familiar than neighbors.
Curating this collection, I have the sense that Ms. Barrows had the idea of home in her mind from the start. The first poem is A.A.Milne's "The King's Breakfast." Breakfast being the first meal of the day, often eaten at home, seems a good place to begin. The waltz-like rhythm is upbeat, and similar to being bounced up and down, as very young children often are. Interestingly, this four-page story begins with the largest illustration in color, and moves to smaller illustrations in black and white. While that would suggest something dark coming, the story itself becomes more colorful, and the pictures become less of a focus. At the end, the listener is as happy as the king that he has his butter, and got what he wanted. Instead of teaching kids to be picky, it is an empowering piece, to ask nicely for what you want, and stick to your choices.
Staying inside of the familiar places, the next poem is Hiding, by Dorothy Aldis. Aldis and Barrows both lived in Chicago, and were only four years apart in age, so I would guess that they knew each other. Hiding in plain sight, waiting to be discovered, is the delight of this poem. Instead of physically moving to seek for the child, the parents look at various objects around the living room to see if their child is in them, or under them. Like the A.A. Milne poem, this too is not diminished by an outdated inkwell in the text, or images that depict an earlier time; these details add to the charm of how we play the same games no matter what century it happens to be. It creates a link to our history, as well as our ideas around family.
The binding in our volume is cracked on page 24 (out of 72) where two of our family favorites are on opposite pages. "The Baby Goes To Boston" by Laura E. Richards is one of those poems you can alternate lines with someone. "What does the train say? Jiggle joggle, jiggle joggle!" Reading this together, you can almost hear the train: "Ting! ting! the bells ring, Jiggle joggle, jiggle, joggle!" The history of America is lined with trains. This poem's length, and use of short lines alternating with the chorus, gives the sensation of a train speeding up, going around curves, and taking you somewhere fun. What would home be without the contrast of leaving it? Barrows knows just when to insert that good feeling of exploration, and then brings us back to the comfort of the familiar. She alternates poems from adventure, to dreamland, or being at home day dreaming, and then outside again. It isn't organized so neatly that you know what is coming next, and that is part of the beauty in the collection and what still makes it fresh.
On the opposite page of "The Baby Goes To Boston," Barrows inserts one of her own poems under the pseudonym Ruth Dixon. (Ruth is her real first name and Dixon is her mother's maiden name; it is one of several pen names that she used during her career.) "Teddy Bear Dance" is a terrific poem about life in general:
Teddy bears are dancing Hip-Hip-Hop! Merrily they're prancing Flip-flip-flop! Now they stumble now they fumble now they tumble. In a jumble – Hippety – (They're up again) – Hop!
This seems to be Barrows at her best. Life is a dance where we often fumble, or stumble, but you get up again and dance. We take our first steps at home, then we branch out and explore, and there will always be the need to get up again when we tumble.
It's a book that I could pick up everyday – even at the age of 50 — and find an interesting nuance of life that I had forgotten, or would like to rekindle. It's a collection that, in all its childish glory, you can rely on for the insight, delight and that familiarity that makes us all want to go home.
***
Susan Marque got her M.F.A. in creative writing from The New School, writes for magazines, television, and is currently working on a memoir. She is also a healthy food expert, loves both food and tech, and all things photo related. Her photo art has sold in Beverly Hills and London.