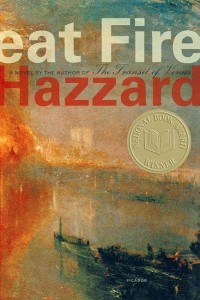 Review by Martha Anne Toll
I heard her on the radio; I found her book at the library. Neither sufficed. I had to own Shirley Hazzard's The Great Fire. The leading man in this taut, beautiful novel is Aldred Leith—measured, strong, true—crisscrossing continents out of duty, curiosity, and ultimately love. Co-starring are Helen and Benedict Driscoll, seventeen and twenty respectively; together, a single force of nature. Winner of the 2003 National Book Award, The Great Fire inspires and intimidates. I would die happy if I could execute a single sentence as compact, poetic, and meaningful as any in this novel.
Here's the opening, two sentences to illustrate the depletion of war:
Now they were starting. Finality ran through the train, an exhalation.