Dead or Alive is a new PANK blog column that will visit either the home of or memorial to a different writer each month. When Robin McCarthy was a child, her family vacations were pilgrimages to literary landmarks; the house where Lucy Maud Montgomery wrote Anne of Green Gables, each home described in Laura Ingalls Wilder's Little House on the Prairie series, Thoreau's cabin on Walden Pond. She has been unsuccessful in breaking herself of this habit, and as an adult her frequent road trips are enhanced by incorporating some bookish tourism, most often the home or grave of a writer. These trips are often an opportunity to familiarize herself with an author she may have overlooked and always inspire deep reverence for the varied shapes writing careers assume and the surprising places in which they can be discovered.
***
by Robin McCarthy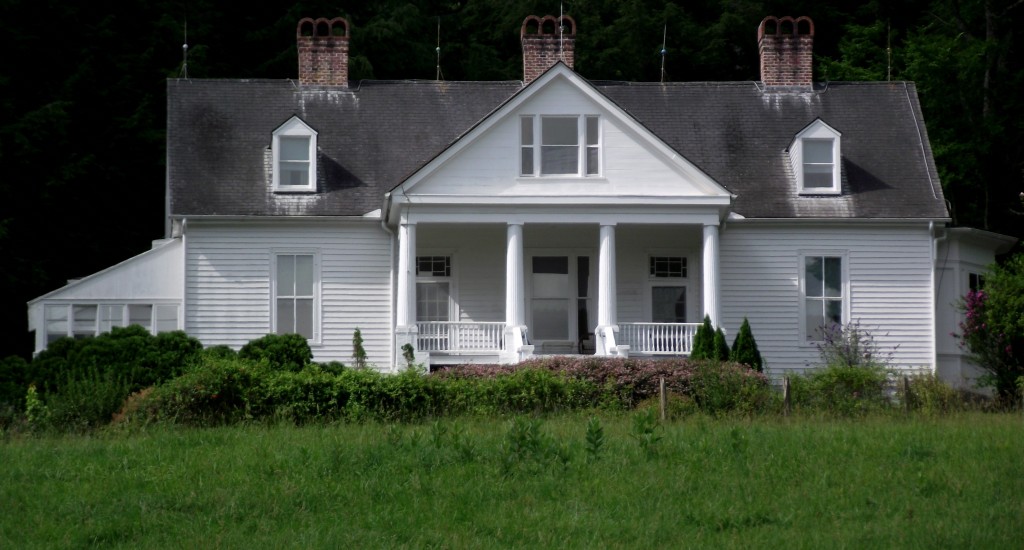 It's June of 2012 and dear friends are being married in the mountains of western North Carolina. The wedding is a three day affair held on the grounds of a lovely country resort in a town named Flat Rock, twenty driving hours from my home in the Northeast. The land is rolling, lush, verdant. There is a white peacock. There is a pond beside which to be wed. There are fiddles and pastel-colored drinks served in mason jars. And, a mile and a half up the road, there is the former home of Carl Sandburg.
This is a fact that takes some thinking. Carl Sandburg's name is so closely linked to Chicago in my memory that I struggle to place him here, just outside Asheville, at the foot of the Appalachians. It is bewildering that the National Park Service operates a sprawling farm in North Carolina as the Carl Sandburg National Historic Site, when his papers and so much of his career are housed in Chicago. Yet, Sandburg and his wife, Paula, and their three daughters moved to the farm, named Connemarra after the region of Ireland, in 1945. He lived there twenty-two years until his death, and a third of his work was created there.
But I know none of this before my boyfriend and I steal away from wedding preparations and park in a large black-topped lot. We find our way to the visitor's center where it is cool inside, dark colors and soft lighting warming visitors to the idea of the $5.00 house tour. We buy tickets and have an hour before our scheduled time. The grounds, we are told, are covered in miles of hiking trails and we decide to kill time with a walk.
The whole time we are walking, I am thinking, Go to it, oh jazzmen. That's what I know about Carl Sandburg, how in the tenth grade I had to memorize a poem for English class and I chose Sandburg's Jazz Fantasia because it was rich with onomatopoeia. I was perhaps not aware or perhaps did not care that onomatopoeias would not earn me any invitations to the prom.
Drum on your drums, batter on your banjoes, I tap out the rhythm on my thigh as we stroll. I work the words out of my memory as we follow a footpath through some forest. Soon, the woods break and we are standing at the back of a small amphitheater. A piano plays and a small crowd, mostly children and grandparents, waits. I look at my boyfriend and we shrug, find seats. Moan high like the wind in the lonesome treetops,/moan soft like you wanted somebody terrible. I have four poems committed to memory. It feels fitting, at the moment, that Jazz Fantasia is one of them, and I remember the roll of the words with surprising clarity. It's muscle memory, this poem.
A young woman takes the stage. She is dressed like Punky Brewster and she explains that Carl Sandburg wrote and performed American folk music, and that he wrote a series of fables for his three daughters so that they might have fairytales that resembled their American childhoods more than the royalty and castles of European lore. We are about to see those tales dramatized and paired with songs. The Rootabega Stories is fascinating. The actors are phenomenal, the music joyful. The children love it. Their grandparents love it. In the back row, my boyfriend and I, still hung over from the rehearsal dinner the evening before, might be loving it most of all. Our toes are tapping. Go to it, o jazzmen.
After the show, it is time for the house, which is a sprawling southern farmhouse. Its front is lined with heavy white pillars in a style that reminds us of plantations, reminds us of Gone with the Wind and all the miles we have driven to arrive here.
While Connemarra is where the Sandburgs lived, what is most fascinating, upon entering the house, is how they left. When Sandburg died in 1967 (he was 89). His wife decided to sell the house to the U.S. Government so that it could be preserved as a national historic site. Then, she just left. She and the two daughters who lived in the home with her packed up their suitcases and moved to a nearby town. Everything in the house is original. It is actually Carl Sandburg's fridge and actually his television and those are actually his worn literary magazines stacked up beside the stairs. There are books in nearly every room and the house is not ostentatious, even by mid-twentieth century standards. We are on a tour with a handful of southern ladies who have spent the earlier part of their vacation at the grandiose Biltmore estate, and they seem unsure about what to "ooh" and "aah" over in Sandburg's house. Nothing looks expensive or curated; the house feels comfortably lived in, as though its owners have dashed out for a moment and were not expecting guests.
The ladies reach their most animated when we climb the stairs to Sandburg's office. The house is bright and white for the most part, but this small room under an eve is dark. The shades are drawn, the upholstery and walls are brown, the desk and shelving are stained dark colors. There is a typewriter and stacked boxes of Sandburg's drafts and notes. This office could be anywhere, on this farm or in a Chicago apartment or on the California coast. It seems a space for looking inward, and the world around it means little. Our tour guide explains that Sandburg spent most of his mornings in this room, writing, before retiring to a sitting room to read in the afternoon. While he was engaged in this work, his wife oversaw the physical tasks of running the dairy farm. The Biltmore ladies cannot get enough of this division of labor, this unorthodox arrangement between man and wife. Must be nice, they chuckle. Better not let my husband catch wind of that!
I am glad for the break from the other tourists as the house tour ends and we pick our way through another wooded path to the barns that make up the hub of the dairy farming operation. The farm no longer produces goat's milk, although much of the equipment is still in place. Instead, it is a petting zoo, and the goats are bona fide descendants of the Sandburg's original herd. When we walk through the gate, we are greeted by a springtime pasture dotted with new-born baby goats. They munch daisies in the grass and cuddle up to enthralled children whose grandmothers swab at them with sunscreen. It feels good, the way human kids and goat kids frolic, unaware of literary pedigree. We spend a while there, petting goats and watching other people's children, because it would be impossible not to.
The farm in North Carolina seems nothing like the Carl Sandburg with whom I am vaguely familiar. There is a peaceful quiet here that is difficult to reconcile with the man who wrote "This is a bronze memorial of a famous general/ Riding horseback with a flag and a sword and a revolver on him./ I want to smash the whole thing into a pile of junk to be/hauled away to the scrap yard." There's little sense of a fiery poet on the farm.
Sandburg was a Midwesterner, a Chicago poet who acted as an advocate for his city. Walking through his home and the fields of Connemarra, it's easy to see how Chicago could be the home of a man with two Pulitzers prizes, the home of a strident political activist, a strong a vocal supporter of the Socialist Party of America. But North Carolina is the home of a man whose gaze is set within himself; a place for a private life to strike a rhythm that lends itself to creating and to aging. It is the kind of a place where a man might admire his wife's aging hands as she forces the birth of a stubborn goat. It is the kind of a place you imagine a new widow would have no use for after the passing of the man who sat in the dark study at the top of the stairs. As we leave the grounds and return to our hotel to shower and dress for a picture-perfect ceremony, I can imagine her handing the key over to someone from the park service. I can nearly hear her say, "Here. Remember us like this."
Robin McCarthy is a writer, teacher and student in Michigan's Upper Peninsula. She studies fiction in the MFA program at Northern Michigan University and is an editor for the literary magazine Passages North. Her work has been published or is forthcoming in The Rumpus, Green Mountains Review, and NPR.