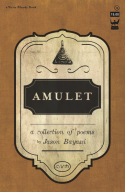 90 pages, $15
Review by Stanton Hancock
In Amulet, Jason Bayani issues a loud and defiant declaration that he has come to claim his place amongst the ranks of the best modern poets.  While his credentials alone are impressive – he has an MFA in creative writing from St. Mary's College, he's a Kundiman Fellow, and he's a co-founder of the Asian American spoken word collective Proletariat Bronze – it's the startling power contained within the pages of Amulet that serve to stake his claim.
Bayani covers so much poetic ground in his first collection that it is startling to reach the last page and realize that it clocks in at less than 100 pages.  After my first read-through, I was sure I had read a much longer book based purely upon the multitude of stylistic choices Bayani makes throughout the book.  While the use of many disparate styles can sometimes cause a collection to lack cohesion, Amulet does not suffer from this problem.  In fact, the strength of Bayani's voice envelops these pages and gives the reader a sense that the many various styles do not reflect a lack of direction but rather a poet sharing the many facets of his personality.  
From the three short but powerful lines of the opening poem "Remaking the Line" through the irreverent stanzas of the collection's closer "Fuck A Nostradamus," Bayani repeatedly demonstrates that he is anything but a one-trick poet as he darts from style to style and from subject to subject.  Throughout the collection, Bayani deftly transitions between the sublime and the absurd, from deep introspection to social commentary.  One of the more impressive pieces is the collection of chain verse sonnets called "Hella" where he ponders the divine while his poet's heart beats in time with the slam of "an 808 bass drum."
It takes a special poetic talent to juxtapose searching for God with jokes about flatulence without coming across as gimmicky but Bayani pulls it off flawlessly in "Gristle," showing that this is the work of a poet who is not afraid to bring all of the tools he possesses into play when crafting his poems.  The humorous interludes amongst the more serious and introspective pieces serve for a pleasant change of pace and allow the reader a greater understanding of Bayani's personality.  One moment he might be cracking a joke or pondering his identity – the next he's being chased by dogs down an unnamed street in the Philippines.
While race is only one of many subjects addressed in Amulet, Bayani's experiences as a Filipino American do echo throughout the collection.  In "Playgrounds and Other Things," he recounts how a few hateful words muttered by an old lady can crush one's spirit. "Couldn't get angry enough to breathe right; / tried to remember if there was a word for what makes you / suddenly clutch your chest."  Rather than being defeated by the experience, Bayani instead rises up and responds with righteous anger and wit.  "I'm willing to say that we share / this particular sandbox equally. / You just have to let me kick sand in your face / for thirty years or so."
As with any poet whose work bears the Write Bloody logo upon its cover, Jason Bayani is an accomplished performer of his poetry and you can tell just by reading them that they cry out to be read aloud.  The best poetry shines on both the page and the stage and Bayani's work certainly does just that.  My particular favorite is "Troubador" which can also be enjoyed in the form of a short film.  This homage to life, love, and loss in Austin, Texas barhops from California to Texas' "gorgeous heat," concluding with Bayani's decision to embrace his new home; at least for tonight.
And tonight, I will run
right into another gorgeous night in Austin, Texas.
The whole body of me, a crooner, a soul singer,
some busker with a broken guitar
who sings of home
and all the wonderful things we wish to fill it with.
Jason Bayani has made one hell of an impressive debut with Amulet and I look forward to seeing what his next collection will contain.  His poetry lands some devastating punches while simultaneously showing vulnerability in those instances where Bayani acknowledges that he's still improving on his craft.  Pick up this collection and don't hesitate to catch a reading if Bayani is in your area.  He is a marvelous poet who is sure to produce even more amazing work in the future and no collection of modern poetry is complete without this volume gracing your bookshelf.
***
Stanton Hancock is a writer and musician from Pennsylvania's Lehigh Valley.  He has an MFA in Creative Writing from Wilkes University and his poems can be found scribbled on scraps of paper, spray-painted under bridges, and in the anthology Everyday Escape Poems from SwanDive Publishing.  He hopes you enjoy this review.