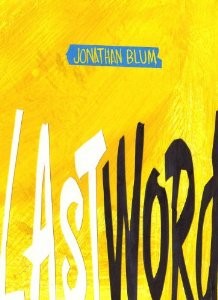 86 pages, $14
Review by Jonathan Russell Clark
There are so many wonderful things about Jonathan Blum's Last Word. Blum's narrative takes us into an upper-class Jewish private school called Traubman V. Goldfarb. The narrator is Dr. Kip Langer, a facial reconstruction surgeon, whose son (from a previous marriage) and daughters attend the school. When someone hacks into the school's network and adds strange and offensive comments to all the report cards, Dr. Langer, his family, and the entire school are thrown into upheaval.
This is a world Blum knows intimately, as evidenced by details sprinkled throughout, like the "zither-shaped concrete bench whose seat spells Shalom Yeladim in a mosaic of brilliant-colored stone flecks," or the "three-part blue-framed proverb" on the wall of a conference room, "If I Am Not For Myself, Who Am I For? If I Am Only For Myself, Who Will Be For Me? If Not Now, When?" I know Blum has seen these things.
I also know that Blum is funny. His prose is littered with great stuff like Langer's reminiscence about the "lanky moyel named Rabinovich…in Ray-Ban sunglasses and a '64 Barracuda" who circumcised Langer's son Eric, the boy suspected of perpetrating the online high jinx. His dialogue, too, is whip smart and rhythmically true. Here is one of the parents of Traubman V. Goldfarb (notice how the school's name looks like a court case) accusing Eric of the crime:
"My daughter Allison. And her friends. Have all told me. Okay? That since last year. Your son. Has gotten more and more into computer games and computer monsters and outer-space computer-warrior something-or-whatever. Stuff. I don't have to understand it. Okay? Fighting games. He sits in the back of the classroom between subjects and does it. On the school computers. And don't think it's just me who thinks he's a little off. Okay?"
We've all been talked to like this––accusatory condescension disguised as half-hearted mitigation––and the dialogue's spot-on accuracy makes it all the more cringe-worthy.
The story moves at a brisk, readable pace, like Tom Perrotta of the Jewish set. The characters are well developed (if not always memorable) and the ending is poignant and earnest.
So with all those wonderful qualities, it's a shame that Last Word ultimately feels a little late, a tad irrelevant. Blum attempt to shine a light on the ways in which the Internet has greatly complicated family life, but the overall effect fails to add anything new to the conversation––probably because the conversation has been going on for a long time. Helen Shulman's This Beautiful Life, published in 2011, also focuses on an upper class family's troubles involving kids, the Internet, online hackery and a private school, but it does so with savvy and an up-to-date vocabulary. Blum's book, however, feels as if it were written ten years ago, when many technological shifts were still new and troubling. When Langer suggests that his son couldn't be the culprit because "there is no way Eric could have spelled half those words correctly," one of Eric's friends says, "Spell check." By now, a tool like spell check is so common that Langer's ignorance seems hopelessly clueless. And maybe it is precisely this cluelessness that Blum is attempting to satirize, but if this is the case, then he should have pushed a little harder. In this regard, Last Word treads too lightly for it to feel like a genuine satire of the parents' lack of cultural knowledge. Instead, unfortunately, the ignorance appears to be Blum's.
Still, Blum is a gifted writer, and the better aspects of his debut outweigh the tardiness of its targets. I hope we hear more from him, and next time I hope his aim is a little sharper.
***
Jonathan Russell Clark is a regular contributor to The Millions and Slant Magazine, and his work has appeared or is forthcoming from The Georgia Review, The Rumpus, Colorado Review, Chautauqua, Black Heart Magazine, Thrasher Magazine and elsewhere. He is currently at work on a novel.