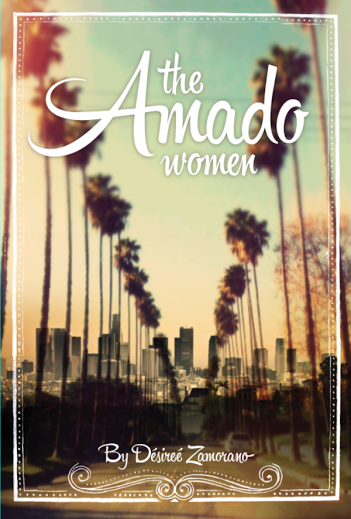 Cinco Puntos Press
240 pages, $16.95
Review by Anjali Enjeti
In The Amado Women, an absorbing debut novel, author Désirée Zamorano portrays the complicated relationships between mothers and daughters, wives and husbands, and three sisters who have one another's backs in the worst of times, even if they irritate one another in the best of times.
Set in 2001 in southern California, this fresh, poignant tale of four women exudes, in perfect balance, strength and vulnerability, betrayal and loyalty. Mercedes ("Mercy"), the sixty-year old matriarch and her three daughters Celeste, Sylvia and Nataly are ambitious, intelligent women whose familial bond is at times both brittle and resilient.
A highly respected public school teacher and divorcée, Mercy worries most about the fractured relationship between two of her daughters, her youngest Nataly, a gifted weaver unlucky in love and her oldest Celeste, a high-powered financial planner who blots out grief with work and alcohol. What Mercy fails to realize is that her middle daughter Sylvia, a married mother of two young girls, warrants her attention and protection the most.
Latina identity is a theme expressed with nuance and subtly, avoiding the egregious, racist stereotypes of non-English speaking undocumented maids or migrant workers. The novel explores domestic violence with sensitivity, as well as the trappings and hypocrisy of keeping up with the (wealthy) Joneses. Says Sylvia about her financially reckless husband, "Instead of ending up in a rustic Spanish, a sweet bungalow, or an imposing craftsman, Jack had insisted on a new home in a gated community. Gated, for God's sake. Was it to protect her daughters from the kind of people she herself had grown up alongside or was it to keep all the bad things inside her home from spilling out into the community?"
Zamorano deftly examines the complicated dynamics among female relatives, the push-pull between independence and approval, the fine line between advice and judgment. The women are passionate, outspoken and don't mince words, no matter how delicate the situation. "Mercy knew it wasn't right, it wasn't fair—for years she had tamped it down as best as she could—but the sight of her baby always gave her unalloyed pleasure, as well as the pain and resentment that develop between siblings who don't seem to speak the same language." In a flashback, Nataly observes marriage has stripped her sister Sylvia of happiness. "Why willingly walk straight into misery? Marriage and motherhood were two languages Nataly was never going to learn how to speak." And Nataly bemoans her eldest sister Celeste, who Nataly believes abandoned her when she was young. "She knew Celeste had constructed and surrounded herself in a plaster artifice. It was difficult to look at this Celeste. She wasn't real."
There are several short scenes early in the novel where Zamorano switches points of view multiple times, right as the reader is being introduced to the characters. The shifts are abrupt, without signals, and create a missed opportunity for deeper engagement of the otherwise smart, witty dialogue.  But this minor critique detracts nothing from an otherwise immensely satisfying read, where characters take life by the bullhorns, no matter the roadblocks. "I will not sleep through my life," insists a young Mercy, when she hits rock bottom. "I am going to live it awake."
Zamorano can rest assured. With The Amado Women, she delivers a story bursting with life, awakening readers to its radiant characters, eloquent prose and deeply engaging world.
***
Anjali Enjeti is a novelist and MFA student in creative writing. Her work has appeared or is forthcoming in the Los Angeles Review of Books, Kirkus, Huffington Post, Paste, XO Jane, among many others.