Original poems & found images
–by Mia Sara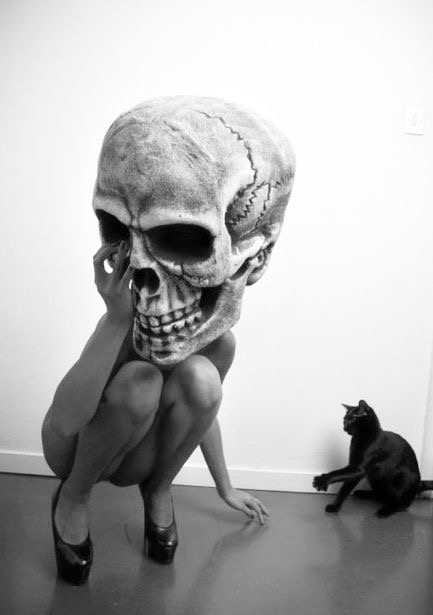 Dream Girl Drops Dead

At what point does the grasp let go the reach
so that you trip and catch yourself clinging
to the coattails of a this spurious dream,
bloated lies that so outweigh the genuine
article, and flatten even the innocent longing
to be right as you are, just where you're standing.
Why fight so hard to be the last one standing
when you've lost all sight of the goal to reach?
It's no real gift to inspire longing
if you don't return the wet kiss clinging
to the soft tissue of your original, genuine,
one hundred percent permeable, dream.
There must be a way to sidestep that dream
that comes off the shelf, where it's standing
pre-packaged, just waiting for that genuine
child with supple arms to stumble in and reach
into the dark, where hopes get stored, clinging
to tap shoes, knitting socks for their longing.
It gets cold with all the waiting, and this longing
has a thin skin, but with care, keeps like a dream.
That awkward desire, the one you find clinging
to your neck, that hisses, and reeks of standing
water, could be an ancient, beyond the tired reach
of memory, the one proof we get of what's genuine.
It's time we got to the beauty part, that genuine
beast, the door is locked and all you're longing
for is that tweak, to get you through, as you reach
your remote, finger the switch, power the dream,
pedal the pump, to inflate your good standing,
and burst the big nothing to which you are clinging.
You're cast out on the street, with nothing clinging
to your ass but eyes, on billboards, selling genuine
imitation pot-boilers, your feet hurt from standing
in for the cake in somebody else's star-struck longing.
Better naked on the page, than undressed in a dream,
that perfect gown, my pretty, is just beyond your reach.
Drop her from the edge you've been longing to reach,
stop clinging to the genuine void that you made and let
Dream Girl drop dead, from the woman still standing.
***
Mia Sara is an actress and poet living in Los Angeles. Her work has been published or is forthcoming in poemmemoirstory, Pembroke Magazine, The Write Room, PANK, Cultural Weekly, The Kit Kat Review, Forge, The Dirty Napkin, St. Ann's Review, among others. For more please visit: http://wheretofindmiasara.tumblr.com/