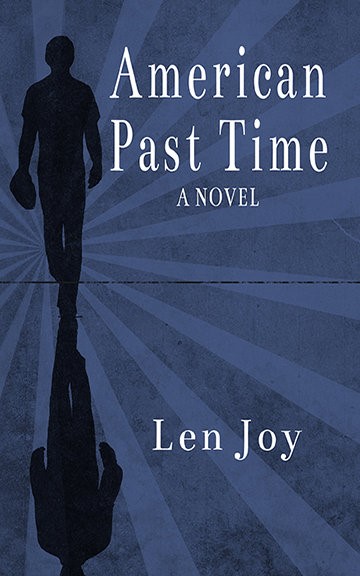 335 pages, $5.99
Review by David S. Atkinson
Len Joy had his work cut out for him when I picked up American Past Time. The book centers on a 1950's minor league baseball star who has to live with blowing his big shot. However, I'm not into baseball. Still, I could trust Len Joy's writing chops since his work appears in places such as Annalemma, Hobart, 3AM Magazine, and The Foundling Review. Given that Joy is a competitive age-group triathlete, it also seemed he might have something interesting to say about the (to me) foreign world of athletics. I decided to give the book a shot.
In American Past Time, Dancer Stonemason is pitching his last game in the minor leagues, having just gotten the call to play for the Cardinals. He's only supposed to pitch a couple of innings so he's not too worn out for his big league debut. However, he finds himself pitching a perfect game and cannot stop. He pitches the whole thing flawlessly, but that's where the perfection stops:
Dancer held out his hand. There was a nickel-sized open sore on the pitching side of his index finger. Doc frowned. "You pitched a great game, Dancer. You're going to remember that game for the rest of your life. Hell. We all are."

"What about the Cardinals?"

Doc shook his head. "You can't pitch with your hand like that."
That quickly, Dancer's chance is gone. Supposedly there'll be another chance, but the foundry work he must do to support his wife and two boys ends his baseball career entirely. Then he loses his foundry job as well as his family. All of the great promise vanishes.
But, American Past Time isn't really about Dancer not reaching greatness. It's more about how he and his family live with what they are able to reach, how they fail and find ways to go on.  In his high school graduation speech, Dancer's youngest son Jimmy sums up what the book was about for me far better than I could. First he tells us:
"We're all going to fail." He paused to let that sink in. "We're not going to fail to plan. We're going to make all sorts of ridiculous plans. And you know what? God's going to laugh at our plans. Most of us are going to fall on our face. The unlucky ones are going to grab the brass ring, and then they're going to realize they didn't even want a brass ring."
I know that sounds a little depressing, but then he goes on to say:
"When we fail, even if the failure is catastrophic, it doesn't have to be forever. We have to forgive ourselves. Let me repeat that. We have to forgive ourselves. As long as we're still breathing, we have a chance to make things right. But we can't if we're spending all of our energy blaming ourselves. So when you stumble, give yourself a break."
Jimmy's words above are the novel in miniature for me. American Past Time has solid and interesting characters, a gripping storyline, and a plainspoken earthiness, but the best thing is how the book transcends a mere baseball story to convey universal insights regarding how best to live a human life. We might not all know baseball, but we all know what it is to fail. Who among us couldn't use a little help with what to do then?
***
 David S. Atkinson is the author of Bones Buried in the Dirt (2014 Next Generation Indie Book Awards finalist, First Novel <80K) and The Garden of Good and Evil Pancakes (EAB Publishing, spring 2014). His writing appears in Bartleby Snopes, Grey Sparrow Journal, Interrobang?! Magazine, Atticus Review, and others. His writing website is http://davidsatkinsonwriting.com/ and he spends his non-literary time working as a patent attorney in Denver.