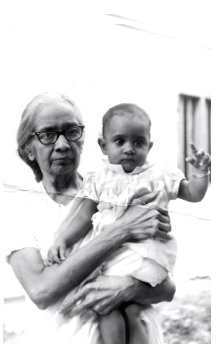 "Ammamma," by Asha Rajan
I met my maternal grandmother when I was six months old. It was my first trip to our ancestral home, the youngest of her grandchildren, the last of the matrilineal line. Every Summer holiday after that was spent there.
I wish I could have known her as an adult. I wish I had had the foresight to ask all the questions that come to me now, to niggle out the details of her life, her ambitions, her desires, her disappointments. But that's not to be. Thirty years ago, on the 9th of February, when I was 15 and she was 85, my Ammamma, my Mothermother, died. Hers was not an easy death, not a slow waning with time for goodbyes, not a death she had been prepared for in any way. I know this because I was with her in those last gasping moments. I was the only one of her family with her, and at 15, I was inadequately equipped to deal with all I experienced.
Ammamma, an asthmatic all her life, had contracted a lung infection that simply wasn't getting better. She was admitted to hospital in Mumbai, a world away from the familiar surrounds of her Kerala home. And simultaneously, I fell prey to a high fever. Perhaps it was exhaustion after the two weddings within two days in our family. Perhaps it was a virus that chose the eldest and youngest in our line. Whatever it was, saw me bedridden and Ammamma hospital bound. After a week of my mother, aunt, uncle, and cousins taking turns in keeping vigil in her room around the clock, I was finally well enough to go to the hospital too.
Ammamma had been wheeled away for an ECG and had had an asthma attack. My cousin's wife and I met her on her way back to her room, and she must have sensed that she was not long for the world. In Malayalam she told me of her regrets, the eldest daughter she had not seen for too many years, the sadness in her heart at their rift. I, the only other speaker of Malayalam there, became the repository of her final woes, translating when I could for my cousin-in-law.
My cousin-in-law, nine years older than I and more familiar with vagaries of age and illness, recognised the signs and ran to ring the rest of our family, to summon them back to the hospital. I stood quaking and gape-mouthed in Ammamma's hospital room as she gasped for air, as medical teams flew into action, as CPR was performed. I stood there until a nurse finally noticed the wide-eyed, terrified girl, paralysed in the corner, and gently ushered me out of the door.
In the corridor, immersed in loneliness, questioned by strangers in languages I didn't speak, the memories came tumbling one over another.
For as long as I can remember, Ammamma slept on a hard wooden bed in the hallway near the first central courtyard of her home. It was more table than bed, but she preferred it to the soft-mattressed frame in the bedroom. Beside her she would keep a heavy metal torch, and under her pillow would be the book or magazine she was currently immersed in. We used to joke that Ammamma would be our first line of defence, if ever a burglar broke into the house. Despite being a tiny, birdlike woman, she had a strong sense of self, and would probably have given any would-be thieves pause for thought.
Ammamma had no great love of cooking, and if given a choice would have preferred the sanctuary of one of her books or magazines. But she would always churn butter from the morning's first milking of the house cows. She would sit at the long dining room table, a butter churn between her legs, and her hands would blur as they whisked back and forth on the wooden churn. Once churned, the whey would be poured off, the curds shaped into a ball between her long gnarled fingers, and placed in a bowl of cool water on the table. I would find any opportunity to add butter to whatever I was eating.
My days at Ammamma's house are a mingle of sense-memories. Smells of coconut, chillies, peppercorns, and tamarind drying in the sun, merge with sounds of men shimmying up the coconut trees, chanting rhythmically to make the climb easier. The sights of women, clad in white cotton mundus, bare-breasted and with dragging earlobes pounding rice into flour, blend with memory-flavours of secretly snatched shavings of coconut and jaggery, brined lemon, bilimbi fresh from the garden, peppercorns still green from the vine, and the sour saliva-inducing tamarind that hung from trees like military medals.
At four o'clock, a call would ring out for afternoon tea. The dining table would groan with the various sweetmeats. Coffee and tea, milky, sweet and piping hot would be poured into glasses. Even Babloo the dog had afternoon tea. A chapati would be torn up, placed in his bowl and a cup of particularly milky tea poured over the top. He would take his tea outdoors, on the verandah that surrounded the dining room. This was the time for catching up on family gossip, friends, and neighbours. The latest news would be picked over, just as the rice and lentils had been. An eagle eye would be cast over the affairs of all we knew, interesting events would be brought forth, turned over, and taken apart. There would be bustle, laughter, my father's singing, and the good-natured teasing of people who were clearly comfortable in each other's company. It was an idyllic childhood in many ways.
I miss the richness of my childhood tapestry. I miss Ammamma's shy giggle and her easy smile. I miss the wonder of her long artist's fingers. I miss her squirrelling away the presents we brought her, like pirate's booty.
I have tripled in age since my grandmother left, but I am no wiser about how my actions might have differed, and I live with the sadness that I couldn't even give her a last sip of water before she departed.
***
Asha Rajan is of Indian descent, born in Brunei, grew up in Western Australia, and now lives in Texas, with her husband, two sons, and two dogs.  She spent long languid childhood summer vacations in Kerala on the southwest coast of India, where her family hail from.  Asha has lived in some remote towns in Western Australia, and has been fortunate to work with many different Australian Aboriginal communities. Asha currently has two blogs on the go and you can read more of her thoughts on parenting a long way from home here https://parentinginthewilderness.wordpress.com and her flash fiction here https://flashatales.wordpress.com.