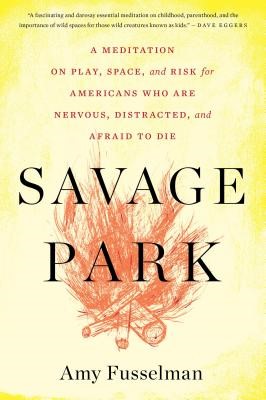 144 pages, $21.00
Review by Lacey Rowland
When I was a child, I used to play with my friend in a pasture near our developing neighborhood. We lived in a part of town outside the city limits in rural, southern Idaho. The areas we played in were often under construction, but frequently abandoned due to funding. These places, the half-finished houses, the construction areas that harbored nails and other potentially dangerous items, were our summertime playgrounds. They were the places where we learned what trespassing was, and how to maneuver around it. In the pastures, we would bring along stepladders and try to summit horses that were not bred for riding, or had not yet been broken. Whether our parents were aware of our adventures, I've never been brave enough to ask, but there is something in my childhood, this space I once lived in that doesn't exist in the same way for children today.
In her book, Savage Park: A Meditation On Play, Space, And Risk For Americans Who Are Nervous, Distracted, And Afraid To Die, Amy Fusselman explores the space and world of play. Fusselman invites us to embrace our inner-child, to overcome our fears of death and purpose, while also showing us that, despite living in a world that seems to have everything figured out, there is still so much left for us to uncover. With her whimsical prose, Fusselman takes us with her on the high-wire with famed artist Phillip Pettit, and into the parks of Tokyo, where children romp through "adventure parks," areas where open fires and sharp tools are at their disposal.
Savage Park is a manifesto. One that calls us to turn off our cell phones, to disconnect from our busy lives and cut loose once in a while. It asks us to remember the time in our lives when nothing was impossible, and everything was before us. Fusselman states, "Americans, I beg you: Recognize! We are already in Savage Park!" a hearty cry to those of us wandering through life unaware of the adventures that await us if we only opened our eyes. As readers, we feel compelled by her writing to climb trees, skip along sidewalks, and yell our favorite songs at the top of our lungs.
But it isn't just a call-to-action. Fusselman weaves philosophy with tenderness, and shows us, like a literary mother, the hardships and triumphs she has faced throughout her life. We face challenges with her, of loss and longing. In the same breath, and the flip of a page, we are on the sidelines cheering her on. In one moment, she is on a makeshift tree-swing in the heart of Tokyo, "I was bobbing around in a tree womb, where what a tree was, and is, is constantly transforming, a type of supernatural plastic, and I, too, could be like this, could be anything and go anywhere from here."
Savage Park wraps us in wonder.   It's the stepladder in the pasture of my youth. Amy Fusselman writes with grace and precision that beckons us to ask ourselves, just how will I live my life?
***
Lacey Rowland is an MFA Fiction candidate at Oregon State University.