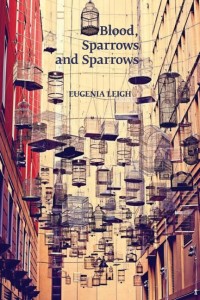 Four Way Books
$15.95, 84 pages
Review by Rachel Mennies
In Greek myth, the seven sisters we call Pleiades committed suicide after the death of their father, the titan Atlas (tasked with separating the heavens from the earth upon his back). While alive, each individual sister lived at the mercy of the impulses of various gods and men, sometimes even bearing their children; in their individual mythologies, their legacies are not kept separate from the ones men made with them or onto them, and they appear in our sky today as a unit of sisters—bound together as stars.
In Blood, Sparrows and Sparrows (Four Way Books), the poet Eugenia Leigh's first collection, we meet Sisters; we meet Father, too, and Mother. Leigh builds these figures out to the scale of myth throughout her book, both as forces bound together by trauma and as personae often compromised by their fraught, epic-scaled loves. Steeped in questioning worship and a profound hunger for bodily life, the speakers of Leigh's gorgeously imagistic, lyric book search for ways out of and back into the family unit, casting an unflinching stare on abuse, desire, and the destruction wreaked by both forces.
Where most poems in Blood, Sparrows and Sparrows rely primarily on the lyric as their primary prosodic mode, Leigh invokes an unflinching narrative voice in poems describing the speaker and sisters' childhood abuse by their father. In the poem "Monsters," this voice tells the story of a kidnapping, recalling "When our dad ran from California—first on foot, / then by bus—did he drag us out??/ Or did my sister and I chase him? He disguised us / as boys." As the speaker interrogates her experience, questioning her child's-eye-view of the trauma, we learn alongside her one snippet at a time. "I had pretended it was a bus trip across the country—?/ our first family vacation. How could I know?/ my dad flushed my hair down that hotel toilet?/ because every cop—everywhere—was studying my photo?" Leigh doesn't let us linger in these narrative flashes, but instead pushes our understanding outward—showing us the dark complication wrought by this trauma for the speaker, as family ties complicate this pain. "I should have said, I asked my dad to take me," the poem ends. "I could be a boy for as long as he needed."
In the poems that explicitly consider childhood trauma, we meet the speaker as part of a plurality—one of the sisters. In "Impossible Questions," the speaker states "I want to know // what my mother stuffed into her purse / the night she left our father / and forgot to take us." In other poems, the speaker acts to protect her sisters, as in "Recognizing Lightning," where "age six, home alone?/ with both baby sisters, one hand / toweling my scalp spewing blood, / the other holding / the phone…" These poems urge us to understand sisterhood as an irrevocably binding force: one that protects even as it compromises, for love in this collection leads both to beauty and violence. To have a sister means the possibility of losing a sister. To love a sister means to watch a sister suffer.
And in witnessing romantic love, we again meet the sisters together, as in the poem "Sex Education," where a "couch bed" in close quarters lead to the girls discovering their parents having sex—"the music of bodies smacking together." Yet the true intimacy in this poem lies not with those making love, but with those bearing witness to this new act: "Folded into the carpet, eyes closed, I huddle / next to my small sisters—the baby?/ curled in the middle." Sex suffuses much of the collection as a splitting force, and the mother and father of this collection usually appear, when together, in violent opposition; but here we see softness and communion in all of the poem's figures. This tenderness both amplifies the ragged trauma endured elsewhere by the sisters and stays it, for one brief moment.
In the poem "Testament," the speaker looks backward to her mother, at the seemingly ruining weight of her endured trauma, and asks "Where did she gather those /You are beautifuls?/ for my sisters and me? / How did she never empty of warmth?" Here—and throughout Blood, Sparrows and Sparrows—the reader must reckon with the impossibility of unceasing grace in the face of violence, a grace which Leigh captures with a sharp-edged, heart-splitting beauty. She asks us what it means to endure on earth, instead of in the stars, after living trauma that's determined enough to end us. Ultimately, her answer lives in the strength of sisters—girls "toughened from having to have been small adults; women somehow both "shaken and unbruised" despite the sky-sized weight of their abuse.
***
Rachel Mennies is the author of The Glad Hand of God Points Backwards, winner of the 2013 Walt McDonald First-Book Prize (Texas Tech University Press), and the chapbook No Silence in the Fields (Blue Hour Press). She is a member of AGNI's editorial staff.