INTERVIEW BY ILEANA FLORIAN
—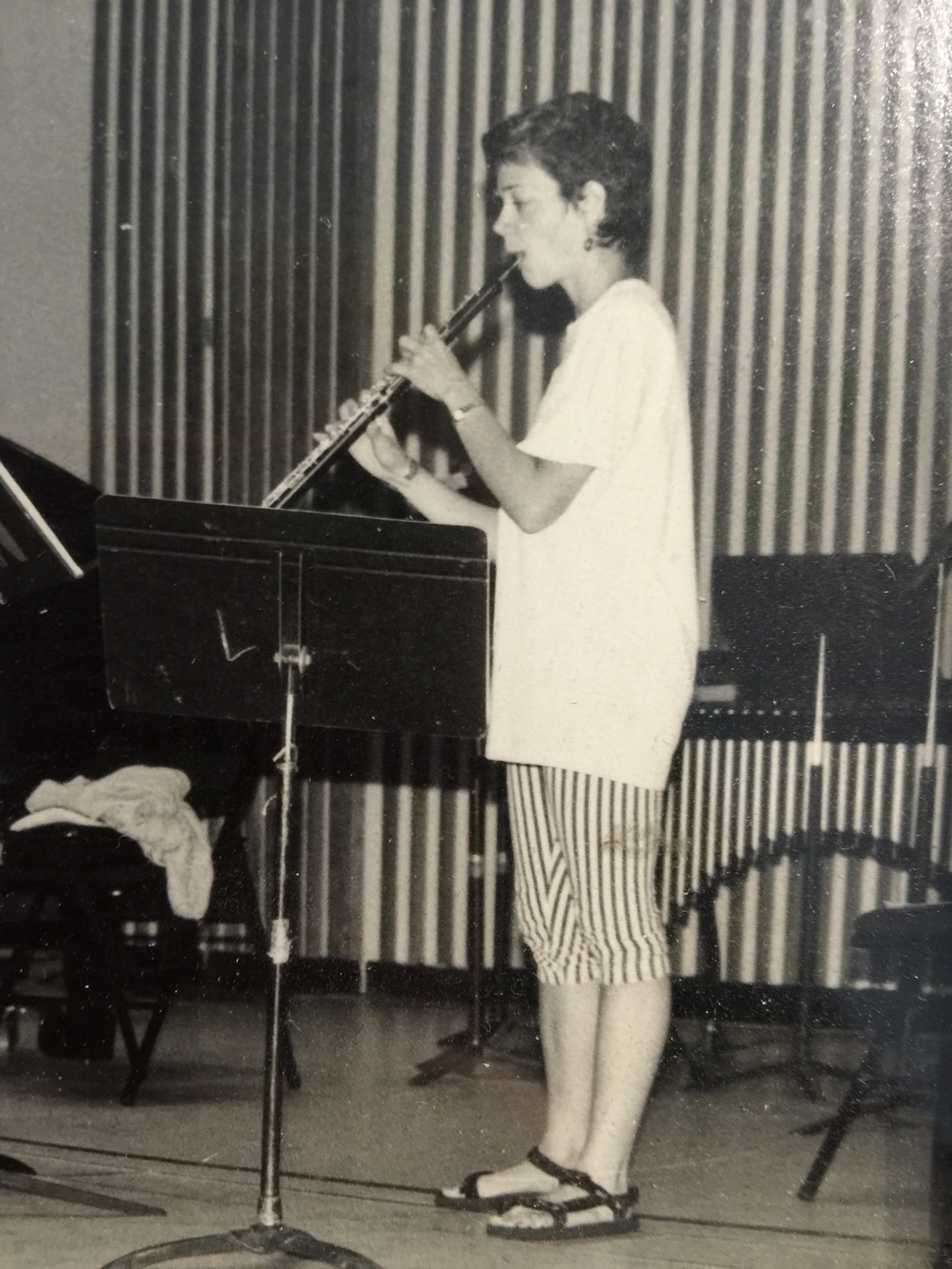 Marcia Butler's memoir The Skin Above My Knee begins with a domestic, Sunday morning scene. The author, four years old, is listening to the soprano Kirsten Flagstad singing the aria Liebestod from Richard Wagner's opera Tristan und Isolde, while her mother is vacuuming the house with a thunderous Hoover. The writer's two loves, music and her mother, thus make their entrance into the book.
Butler's memoir blends together stories about girlhood, sexual abuse, and an overwhelming passion for music. Against the gritty backdrop of New York City in the 1970s and 1980s, the author struggles with abusive relationships, drug addiction, and unsuccessful attempts to reach out to her family. Butler's account of her life as a musician is no less realistic, ranging from nearly starving as a student to maintaining a grueling performing schedule. These experiences, however, are redeemed by galvanizing moments when performing in orchestras felt like being a part of a larger, living and thinking, organism.
I spoke with Marcia Butler about creativity, competition between mothers and daughters, and the corporeality of music, in December 2016.
—
Florian: How did you start thinking about writing a memoir?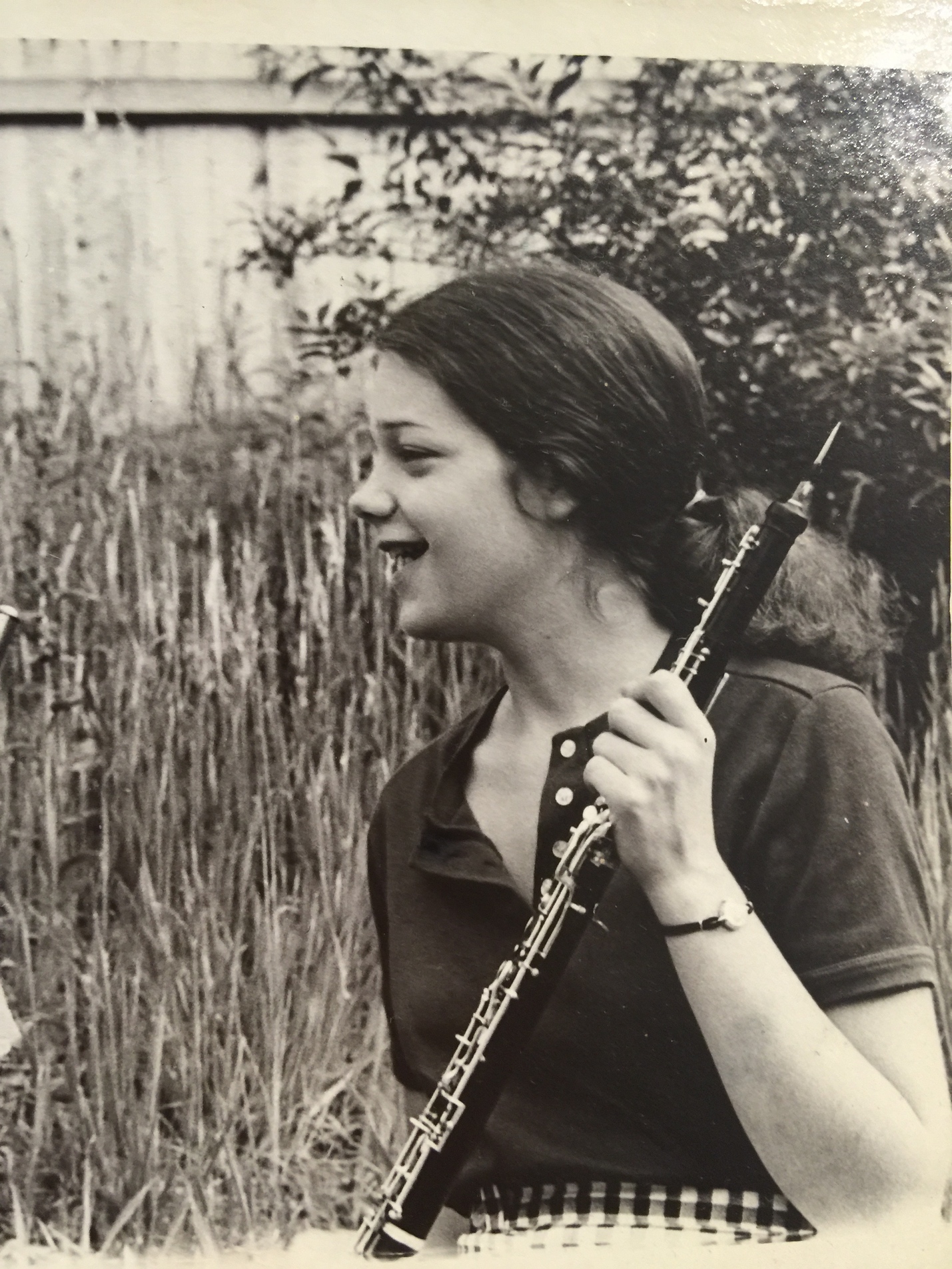 Butler: Well, that's an interesting question because I didn't set out to write a memoir at all. I was writing about creativity, actually. I'd been a musician for about 25 years, and then was an interior designer for 15 years. As a designer, I began blogging and quickly realized that the more fertile subjects for me were the overarching principles of the universality of design, aesthetics and creative thrust. How all this binds us together as a society and how we live and enjoy life. What are we drawn to, and why?
For example, I became fascinated with the power of three. It's never two, it's always three. This is born out in everything. In religion with the holy trinity, in myth with the third or evil eye. In the nursery rhyme – Three Blind Mice, in comedy and film – The Three Stooges. Through the masters in artwork, subjects are framed within a triangle formation to set up ideal proportions. Within physics, threes appear in sound waves and I'm sure on deeper levels as well, which I certainly don't have the expertise to speak about. I could go on and on – there are so many examples in all cultures. But this always brought me back to music and a strange phenomenon in the fact that when two violins play together, they don't sound very nice. But when you add a third violin, the beauty doesn't increase by just one third; rather the resonance improves on an exponential level and with exceptional beauty.
This reminded me of my performing days and thinking about peak moments on stage with specific, memorable concerts. I wondered what made them so wonderful. So, I began writing about my own performance experiences. This naturally led me to write essays about my life. For instance, my very first essay which begins the narrative section of my memoir, is about being four years old and hearing the music of Richard Wagner – his Liebestod from the opera Tristan and Isolde – for the first time. This is my very first memory of hearing music. Kirsten Flagstad was the singer and it was a startling moment for me and actually began one trajectory of my life. Even at four years old!
Now to return to your question of how I came to write my memoir. I had amassed these pieces, woke up early one morning at about 5:00 a.m. and realized I was, in fact, writing a memoir. It wasn't necessarily a happy sensation at all, but the epiphany kind of galvanized me and I managed to write it in about three years. I suppose, in retrospect, this moment was another one of those peak moments or a creative impulse that prompted me to continue and I'd eventually understand why.
Kirsten Flagstad – Wagner Liebestod
Florian: This early moment of understanding music is extremely powerful, both because of this passion for music that you're discovering at an early age, but also because, in the book, your mother is present in the background at the moment you have this revelation. Your relationship with her, and with your family in general, forms a counterpoint to the story of your artistic career.
Butler: My mother was an exceptionally talented person. She could draw figuratively very well. And she was just super intelligent. I mean, there were so many things about her that I found intriguing. I think that's why I put her on a pedestal for so long. At work, she was a beloved schoolteacher and taught French, Latin and Spanish. She read voraciously; always had a book in her hand. She was a lively person on the outside but did not display that persona to us at home. I remember feeling baffled when I was young, and later on angry, because she'd present herself so differently when we were in public. She had so much interest and energy for others, but not for me. And it wounded me terribly.
Part of the problem with my mother was that she was competitive with me. I see this only in retrospect many, many years later, of course. I believe that she felt, to a large degree, marginalized in her marriage and in her family life. Quite frankly, I don't think she really wanted kids and could not reconcile where her life ended up. And she would not allow a closeness between herself and her daughter because I represented a barrier to her dreams. This competition was subtle and certainly not understood back then. At the end of the day the young girl, the young woman, the middle-aged woman wanted her mother, and I kept trying for years. I tried to be the best daughter I could be. And it was never the right way. Never. I was unimaginably sad.
Florian: Did your parents ever divorce?
Butler: They're dead now, but they stayed married until the end. I believe that she was going to leave my father a couple of times through the years, but never did. I'm sure she felt she couldn't make it on her own first emotionally, because underneath, of course, she felt incredibly deficient. That had to be the case. But financially too. She earned a schoolteacher's salary, but you know how it was. Women of that generation didn't feel empowered to take those steps. "He might be a creep, but he's my creep." That kind of thing.
Florian: Your expectations were very different from the very beginning. You were trying to follow something for which you had passion and that was real and affirming for you, and you just allowed yourself to grow, in spite of lack of encouragement. I'm thinking of the years you spent at Mannes College of Music, and how you were trying to survive without much help from your family.
Butler: One of the best days of my life was getting that call from the Mannes College of Music telling me I'd received a full scholarship, because otherwise I would have ended up at Katharine Gibbs Secretarial School. My internal trope was: "Just get to New York City. Just get into conservatory. I'll make it work." When times were tough and I had no money, I made it work in any way that I could. That meant I became a sneaky girl. For a period of time I ate only one head of lettuce a day. Gradually I lost my period because I wasn't getting any protein at all; I was going into that state where young girls lose their estrogen. I felt a lot of shame as well, because I didn't have the wherewithal that other students did; family support. As a result, I kept everything secret: eating only lettuce and all the rest of my considerable shenanigans. At the same time, I was around my fellow students who understood me on a musical level, and that was thrilling. When you're 18 years old, that's everything.
Florian: This brings me to my question about your experiences as a woman and a musician. It's not difficult to notice that there are, and traditionally have been, fewer women musicians in classical orchestras than men. What are your thoughts about that?
Butler: In the first half of the 20th century, women had not been encouraged to seek careers in general, let alone one in the arts. That has changed a lot over the years. During 50s, to 60s, to 70s, and even into the 80's, there were still very few women in orchestras. In any case, in the US it started to really change during the 1980's with the advent of blind auditions, which are held behind screens. Vienna Philharmonic was the last holdout and accepted their first woman in 2003!
Florian: Unbelievable.
Butler: So true! But I've always been curious as to how the actual sound of an orchestra might be influenced by gender. I listen to a lot of really old recordings on YouTube of various orchestras from the 1940's, 1950's – and even older. These orchestras were made up entirely of men. There is no way to codify this notion, but I wonder how the sound of an orchestra has changed through the years with the inclusion of women. That's not to say that women play in a 'feminine' way at all. In fact, if you close your eyes, it's impossible to glean gender from someone's playing. I just think there may be a subtle quality brought to play by a re-balance of testosterone and estrogen. Impossible to determine, I'm sure. But it's along the lines of, what if women ruled the world. How would that change our planet.
Fast forward: I just recently heard Berliner Philharmoniker and Royal Concertgebouw from Amsterdam, both at Carnegie Hall. The string section in the Concertgebouw is at least half women. Berlin has a large percentage of women now, as well.
Berlin Philharmonic – 1950 – Richard Strauss, Don Quixote
Royal Concertgebouw Orchestra – 2010 – Gustav Mahler, 6th Symphony
Florian: Your book talks a lot about music as an embodied, physical act. You mention a conductor who can communicate in a nonverbal way with the orchestra and a conductor who had to tell the orchestra what to do. I also remember reading about you standing up, taking the correct breath, and then playing the oboe… Tell us a little bit more about that.
Butler: Playing any instrument, whether it's an oboe, or a flute, or a tuba, is tremendously physical. It may look like we're just sitting there blowing, but there's a great deal of focused physical energy that goes into playing an instrument. It's hard to imagine: you must blow to produce the sound, but also create an extraordinarily beautiful sound, and further, interpret highly complex music. Then you must sustain it over a long period of time – usually more than an hour. Imagine being an Olympic hurdler who must jump for an hour non-stop. The stamina is colossal, exactly like an Olympic athlete, and that's not an exaggeration. It's such a rarefied channeling of human energy.
But that's just the physical part. When you put a group of people together there is a synergy that needs to happen which occurs on the intuitive level. You're listening and looking and getting cues from those obvious senses. But there's also the attuned knowing amongst the group. Another way of putting it is this: the top mental process is when you're fully aware of what's going on, but then there's the underbelly, where you unconsciously understand what the unspoken impulses are; the things outside of and below those obvious senses. When you make music, you fuse the combined energies of the group: physical, mental, emotional and intuitive – all creating something artistic, simultaneously.
This is something that musicians learn to do, but it's also a gift. If you are talented and have the right training and the right ears, and if your intuition is exceptional then all these extraordinary abilities will float to the top. But music must be at the helm. The question is rhetorical but always present: Why are we sitting here playing? It's because there's an opportunity at every moment to communicate something to the listener and for that person to be moved. That's the raw experience. It's an act of love actually.
I've attempted to explain this complex phenomenon in my book through describing my performances. Music is truly a miracle. And it is why, in my opinion, music is an art form that all people relate to and want to be close to. You want to be on stage with the Grateful Dead; you want to be in the front row at a Billy Joel concert; you want to be enveloped by the sound of an orchestra. In all cases, the universal desire is to be in touch with that exact moment when the good stuff is happening on stage. That's what musicians do. And the listener can experience it too. So, there are always two points in music: the person making the music and the person hearing it. Then the connection is fully embodied.
Florian: Speaking of sound, and person, and embodiment. There is another theme that reappears through your book… making reeds for your oboe, a practice that you engaged in every day. It made me wonder, because you talked about having your own sound. How was your sound related to the reeds? And what are those mysterious reeds, really?
Butler: Right, those evil, evil little devils (laughs). First, for oboe players or for any instrumentalists, sound is like DNA. It's a thumbprint. Now, for me it began with Kirsten Flagstad's voice when I was four years old. That was a template of sorts for how I heard an artistic utterance.
Florian: Were you hoping your oboe would sound like Flagstad's voice?
Butler: Well, it wasn't even that specified. I was a young oboist who, at four years old, heard her first music produced in a certain way.
Florian: Maybe in terms of emotion?
Butler: Yes, but I wasn't conscious of it when I first heard her voice, or even when I started playing the oboe, but her sound was my tattoo. So, when you're making the reed, you're fashioning it in a way that will give you your sound.
Marcia Butler – oboist – Keith Jarrett, Adagio for oboe and orchestra

But reed making remains yeoman's work for the oboist. Basically, you're making reeds every day. Constantly. They wear out because you're playing them all the time. I would have 20 reeds in a box at any time and I understood which ones I would play for which music. The acoustic of the hall made a difference too. Alice Tully Hall vs Carnegie Hall. So, it's all about the reed. If you don't have a good reed you're up the creek. It's a high wire act and very annoying! Occasionally I'd have a bad reed for a concert. Perhaps it wasn't speaking in a certain way, or wasn't producing my sound. It felt just awful. But you must be a good enough player and artist to actually manage that bad reed and play beautifully in spite of it.
Florian: Against the reed, basically.
Butler: Yes, exactly. I sometimes hear people playing at places like the MET Opera Orchestra and they say, "Oh my reed was terrible," and they sounded great to me. So that's the testament, they played beautifully in spite of a bad reed. It's always this balance of trying to make a reed that's going to do everything for you. Yet, at the end of the day, you have to do it for the reed. It's weird, you just can't imagine it.
Florian: I want a picture of the ideal reed.
Butler: The picture means nothing (laughs). But are you feeling my pain?
Florian: Yes, I am.
Butler: Imagine it this way: if a violinist had to make a bow every day in order to play, and the bow hair was crappy, and the wood is awful… that's what we oboists are dealing with. Plus, as soon as you make the reed, it begins to die. The reed is made of bamboo, which was a living organic thing. Because you are blowing into it, your saliva, which has enzymes that helps destroy the food you eat, is also destroying the reed too! Eventually the reed will just die – the vibrancy is gone because your saliva has killed it. You can't resurrect something that enzymes have literally eaten away. The little soldier is gone.
Florian: And, as you said earlier, you're only as good as your last performance. I'm curious about your experience as a freelancer. How did it feel to be a freelance classical musician in New York City in the 1980s?
Butler: I came into freelancing after college, in the 80s, 90s and the 2000s. I retired in 2008. Back then, there were many orchestras in New York City and the surrounding areas that had concert series of four to eight performances a year. I held positions in many of these orchestras. We had a robust performing community. One of the unique things about freelancing is that I played with a wide variety of fantastic players. The personnel of these orchestras were always changing. Say you'd have three concerts in one week – four rehearsals for each concert. One job is a certain group of musicians, the other job is another group of musicians, and you know them and their playing very well. This requires flexibility and is extremely interesting on a musical level. And I did make a good living – always paid my bills.
Florian: How about your current projects? You mentioned that you're writing a novel. What is it about?
Butler: Yes, this is a work in progress. It is set in New York City about a man named Pickle, and features the George Washington Bridge.
Florian: It seems that you're fascinated with New York City.
Butler: This city has a heart and soul like no other. I've lived here since 1973 and I adore every nook and cranny of New York City. The culture is so diverse and somehow every single last person makes an impact. Goethe said music is liquid architecture and architecture is frozen music. All I need to do is look up and there's the skyline – the buildings – making their own music. I turn the corner, and there's another symphony for my eyes. It's a great place to live.
—
Marcia Butler was a professional oboist in New York City for over 25 years. In 2002 she formed her interior design firm, Marcia Butler Interior Design. Now as a writer, her memoir, The Skin Above My Knee (Little, Brown) will be published February 21, 2017. She is currently at work on a novel.
Ileana Florian is a Romanian American author. Her work has appeared in The Rumpus, Mulberry Fork Review, and edited collections. She is the essays editor of ducts.org and is currently at work on a nonfiction book about growing up in socialist Romania.