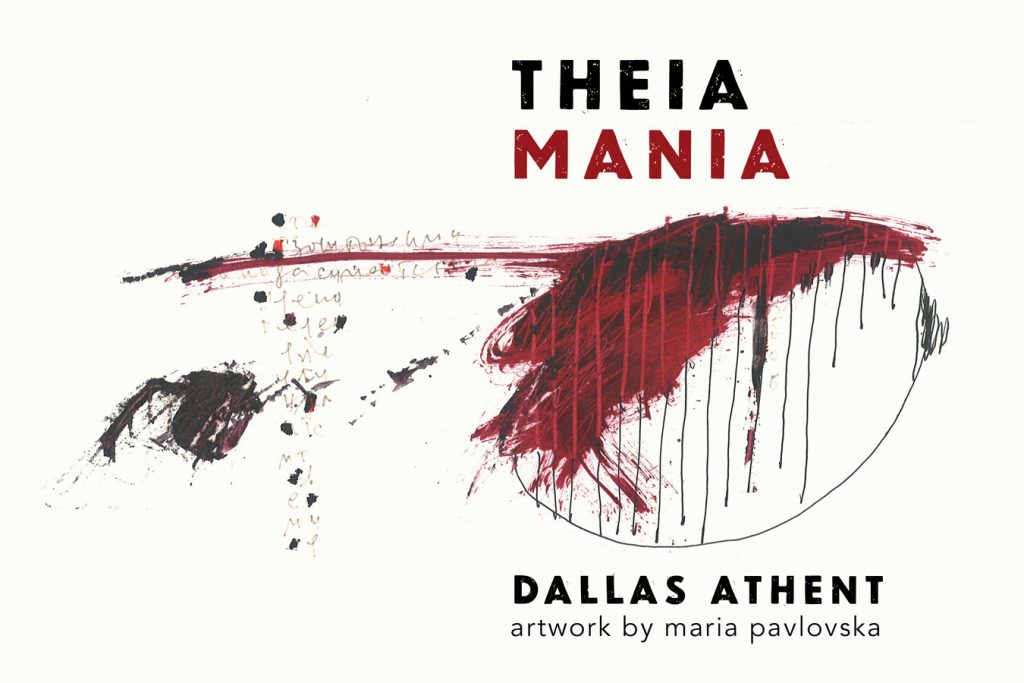 REVIEWED BY CHRISTIAN NIEDAN
—
Words in a book are more useful than the sentences they spell out. They can make beautiful shapes and patterns on a page that greatly enhance the messages they convey. Set those printed shapes and patterns beside hand-drawn artwork that compliments them, and you get a dynamic home for great poetry. Such is the construction of Dallas Athent's new 66-page poetic tome, Theia Mania, with illustrations by Maria Pavlovska, and book design by Eve Siegel.
The book's launch event was recently held (April 30) at Pavlovska's well-lit high-ceiling studio at Mana Contemporary in uptown Jersey City, New Jersey. There, visitors got a closer look at the original abstract sketches used for her art/poetry collaboration with Athent. Those buying the book online via the publisher, AntiSentiMental Society (an imprint of Off the Park Press), will find a short paragraph describing the sketches as "delicately scrawled thread-like drawings that seem to mimic the internal landscapes described and experienced in these poems."  The original studio wall-hugging illustrations range from toweringly large to book-sized in scale — an appropriate setting for the event's lineup of poetry-reciting authors, which included Athent, AntiSentiMental Society editor Ronna Lebo, Brooklyn writer and filmmaker Prospero Vega, PANK senior editor Chris Campanioni, and culture chronicler Anthony Haden-Guest. It was the title of Haden-Guest's memoir about Studio 54 (The Last Party) that helped inspire the launch event's title: "Theia Mania: The Last Book Launch on Earth." Indeed, the theme of Athent's poems echo Studio 54's long-ago aspiration to host a mix of the sublime and the profane in one swirling space. Hence the the English translation of the book's ancient Greek title: "divine madness."
A clue to that aspiration is the oversized presence of thick black words "Degenerate Deity" on page one. Flip a few leaves, and page 5 holds perhaps the most succinct poetic expression of that enigmatic opener:
i am a venus rising.
a venus rising
from the rain fell
to the gutter.
i pick pennies off
the ground
and buy keebler 
wafers from the
deli.
here we call them
bodegas.
i am a scumbag
goddess.
The shapes of such paragraphs live on the book's right-hand pages — with designer Eve Siegel intuitively moving and morphing word groups around the white space to mimic Pavlovska's left-page illustrations. Only on page 58 do the words finally cross the spine to stand beside a slim vertical illustration that resembles a dark tower of smudged letters. Siegel situates the nearby poetry lines in similar tight paragraphs, including Athent's mini-ode to English artist friend Natascha Young:
SO I go to England. Where I belong. I see
the gray and brick and towers of mirth and
gloom. I feel the powers of nations rolling on
history and the river Thames, bones washed
ashore and discarded. And I feel rich. Richer
than a Sulton. There are clocks that could
have paid for my college. There are canes
with marble bells for handles that only a
diplomat could be seen with. We're so drunk,
Tascha and I. My spirit: Tascha. The mother
of this earth and then some: Tascha. Project
Venus: Tascha. We had all the wine in the
world. All the wine on the table. And then we
had cheese.
"those were dark days."
"those were dark days."
those were dark days,
we speak of Wolverhampton.
Yet, Theia Mania's recurring flirtation with dark themes is not of the naval-gazing goth variety — rather, they revel in electric-lit cityscapes of buzzing shadows, where the liquor-infused nightlife drives a writhing kinetic energy that is intoxicating and addictive. Athent emphasizes her modern urban themes with a sprinkling of smartphone shorthand, the text-worthy symbols seeming like printed sisters to their spoken siblings:
Pictures of an Atlas
playing baseball with a
semi-automatic weapon and the ball = my <3
This is what it means to be Atlas
This is what it means to be Dallas
The divine madness of Theia Mania's many poetic meanings are allowed to swirl and soar thanks to a very effectively-structured trio-collaboration between author, artist, and designer. The artwork by itself is resonant but abstract. The poems, powerful but shaped as sentences. Together, and jointly reshaped with every turned-over leaf, the resonance and power of the combined product jumps across the pages… and off of them.
—
Christian Niedan is a Brooklyn-based writer and editor. He is co-coordinator of Brooklyn events for literary nonprofit Nomadic Press.