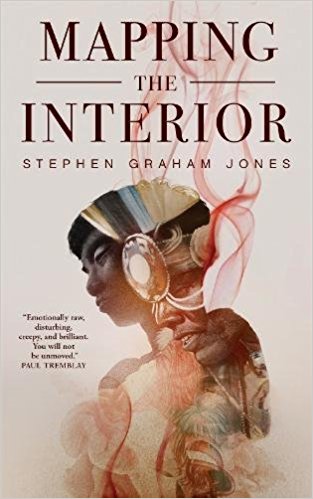 Tor Books, 2017
REVIEWED BY JESSE LAWRENCE
–
What can one say about a novellette without giving it all away? I know there are guidelines for what constitutes what, but I'd be hard pressed to tell you the difference between a novella and a novellette. The good thing, for all of us, is that length truly doesn't matter (I'm sorry, really). It's all about the story. And Jones delivers that. Every. Single. Time.
I'd wager you're all, you great readers out there, familiar with the work of Stephen Graham Jones. If not, obligatory (but still emphatically sincere) directive: dive into his catalogue. Start wherever. It doesn't matter. In fact, if Mapping the Interior is your first Jones book or if none of them are yet and you're reading this review to see if you maybe might want to read his work, then, honestly, a huge part of me is jealous. To discover and read those books for the first time? You don't forget those things.
At any rate, Mapping the Interior is Jones at his best. It's distilled. It's got some signature touches, like family, bargaining for a better deal, a better outcome, and characters who get themselves into the craziest of situations that even we would have gotten ourselves into had it been us, and [spoiler alert] Frankenstein's Monster dogs. Okay, that one's original to this story, but it is so, so Jones. And, did I say family? Yeah? Yeah. Family is important above all. The things we would do, would sacrifice, for our family, it's all there, all here.
Jones takes us through the dark hallways of the human heart, and he shows us that axe-heavy beauty that lies within.
Like so many of his stories, I found myself lost in the world, still, minding my own business, yet something always manages to get in my eye…