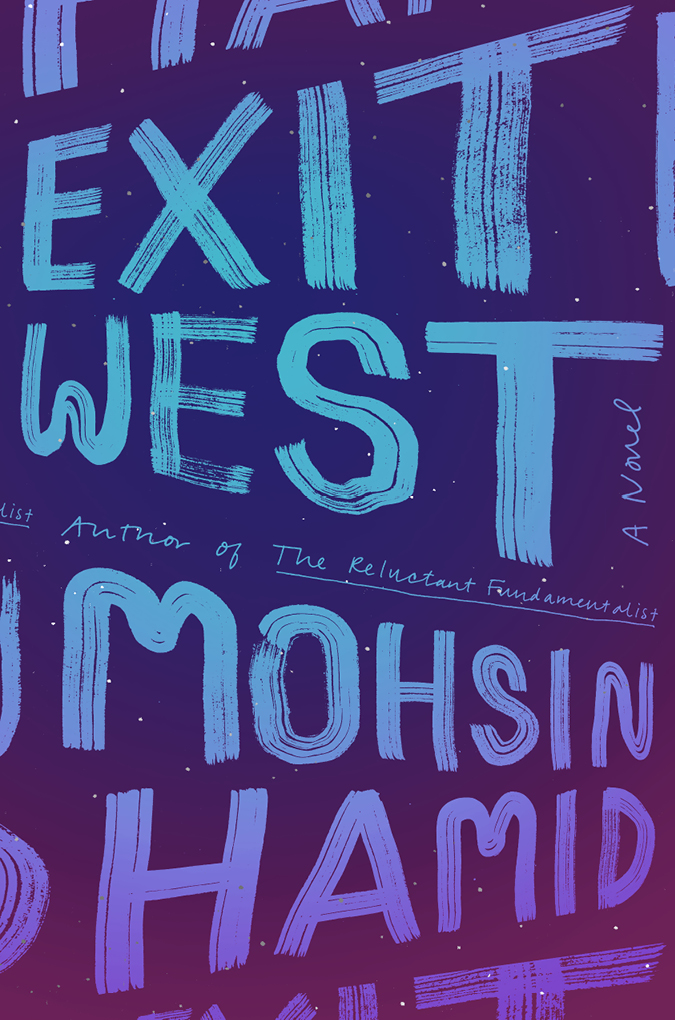 (Riverhead Books)
BY NICHOLE L. REBER

—
Once again Pakistani writer Mohsin Hamid has captured the zeitgeist. In his latest novel, Exit West, he continues to pull no punches. His earlier novels put the US and "rising Asia" under the microscope, but this time the culprit is Europe. In this novel he puts us in the shoes of the Middle Eastern refugees and we get a glimpse into what it must be like to be forced to flee from one's homeland, the perils faced at the hands of other terrified, desperate asylum-seekers, and then being cast aside by Westerners, who prove they're not as glamorous or as kind as Hollywood movies portray.
Hamid's rigorous observations and capacity to represent diverse perspectives come from having lived in London, the US, and Pakistan. Those experiences appear throughout his corpus as examinations of the turbulent bumps of globalization. Altogether, he writes compelling, if not cutting, stories. His talents result achieving universality in observations and compassion of the human condition. That's surely helped him achieve international acclaim.
Let's consider Exit West. His latest release, based on the Syrian refugee crisis, features Nadia and Saeed, two young sweethearts thrust prematurely into a relationship when unrest roils through their city. With a bit of magical realism the couple finds secret doors leading to the safety of Greece, England, and then the US. (See if these doors don't conjure thoughts of Being John Malkovich.)
Hamid's essays in The Guardian and Time also take Westerners to task. In fact, most readers will find themselves looking at their patriotism in a way they've never been challenged to do before. His scathing essays raise a mirror to us, causing us to wonder if/when we stopped being the land of opportunity. He writes:
"A pair of runaway slaves fleeing the antebellum South, arriving in Boston. A family of Jews fleeing the Third Reich, arriving in New York. A baby boy fleeing the destruction of his home world of Krypton, arriving in Kansas. Most Americans know what must be done with such people. They must be taken in. Given a chance. Allowed to become an equal part of the ­American story.
"How many Americans today would think it right to send the slaves back to the plantation, the Jews back to Europe, the infant Superman back into space? The very idea seems abominable, absurd—un-American.
"Why, then, is there such an outcry over accepting refugees from places like Syria?"
Hamid's other novels are also tales sprung from today's news headlines. Consider The Reluctant Fundamentalist. (Director Mira Nair turned it into a gripping film starring Kiefer Sutherland, Liev Schreiber, and Riz Ahmed.) This story takes place primarily in New York before and in the months after 9/11. Told from the perspective of Changez, a Pakistani immigrant who graduates from Princeton, earns a position with an elite Wall Street firm, and falls for WASPY, wealthy Erica. Changez exemplifies the American Dream we still want to pretend exists. Until two planes tear into the World Trade Towers, transforming him overnight into a persona non grata.
"I ignored as best I could the rumors I overheard…: Pakistani cab drivers were being beaten to within an inch of their lives; the FBI was raiding mosques, shops, and even people's homes; Muslim men were disappearing, perhaps into shadowy detention centers for questioning or worse. I reasoned that these…(things) were unlikely ever to affect me because such things (didn't) happen to Princeton graduates earning eighty-thousand dollars a year."
Quotes like this give us a refreshing perspective from an immigrant, a non-American in the country's saddest moment in almost 60 years. It sheds light on that line between nationalism and patriotism, imploring readers to more deeply consider which side they stand on.
Next comes How to Get Filthy Rich in Rising Asia, also published by Riverhead. It's a modern day version of Upton Sinclair's The Jungle, structured in twelve mocking steps on how to rise to the ranks of the middle class. The author has left the setting deliberately unclear: is it India or Pakistan? Nonetheless setting matters only insofar as we get to know a young man, born into a destitute family, the kind who live in the slums that Westerners often assume are the only kind of housing in India. As the man becomes street smarter, he builds a lucrative water business and climbs the social ladder in ways that would have made Ayn Rand beam.
Hamid plugs into humanity's natural tendency to envy/dislike the wealthy. He allows us to coast on our assumptions that they got that way by skipping morality, respect, and integrity, by marrying for convenience rather than an emotional engagement. He captures the zeitgeist by making us feel like we're reading about a country transmogrifying before our eyes.
His use of the second person brings us still deeper into the action. Such is the case in a particular scene depicting backroom deals and corrupt alliances that form the backbone of capitalism:
"Yet he suspects it is not these obstacles giving you pause. No, the brigadier thinks, you are wary because you know full well that when the military-related businesses advance into a market, the front lines change rapidly. We get permissions no one else can get. Red tape dissolves effortlessly for us. And reappears around our competitors. So we can move fast. Which makes us dangerous commercial adversaries."
Hamid's debut novel was Moth Smoke. He's also written a collection of essays, Civilization and its Discontents. His work has won or been short-listed for the Man Booker Prize, the PEN/Hemingway Foundation award, the DSC Prize for South Asian Literature, and others.
http://www.imdb.com/title/tt2032557/?ref_=fn_al_tt_1
The Reluctant Fundamentalist film
http://www.mohsinhamid.com/trfexcerpt.html
Excerpt of the book
http://www.mohsinhamid.com/htgexcerpt.html
How to Get excerpt
http://www.mohsinhamid.com/ewexcerpt.html
Exit West excerpt
http://time.com/collection-post/4527253/2016-election-refugees/
Hamid's essay in Time
—
Nichole L. Reber picked up a love for world lit by living in countries around the globe. She's a nonfiction writer and her award-winning work has been in World Literature Today, Ploughshares, The Rumpus, Lunchticket, and elsewhere. Read her stories on a Chinese cult, wearing hijab in India, and getting kidnapped in Peru at http://www.nicholelreber.com/.