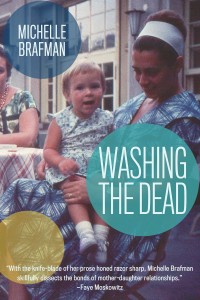 344 pages, $19.99
Review by David S. Atkinson
Barbara confesses an odd thing to her sonographer when eighteen weeks pregnant with her daughter. She says she "prayed that God had spared a girl from landing in [her] womb." That's a pretty heavy way to start Washing the Dead, the debut novel by Michelle Brafman (a teacher at The Johns Hopkins MA in Writing program whose writing has appeared in Fifth Wednesday Journal, the minnesota review, Blackbird, Slate, the Washington Post, and elsewhere). Regardless, knowing what I know now, it seems like a pretty apt place to begin.
Barbara is terrified about raising a girl because of her traumatic relationship with her mother. Her mother was loving, but could occasionally be inexplicably distant:
My mother's mood hovered over us, a mist that could either turn to rain or vanish into the sunlight. During our family walk to Shabbos services, I saw her eyes honeying over, the first sign that at any moment she could dip away from us, into that place inside herself. Even since last April, the mist had turned soupy, and I worried that we would both drown in it.

"Let's do the last block fast, Mom." If we moved quickly, we could outrun the fog.