INTERVIEW BY MANDY SHUNNARAH

–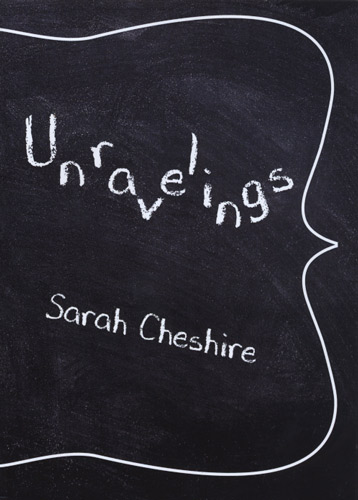 I don't know what the other entrants' chapbooks in the 2017 Etchings Press Chapbook Contest were like, but I know Sarah Cheshire's win for Unravelings was well-deserved.
After becoming romantically involved with a trusted creative writing professor and mentor, "Jane Doe" is forced to recount the details of the relationship––including its varied manipulations and abuses of power––for a Title IX investigation. Unravelings is a fictionalized memoir in the sense that names, locations, and other identifying information has been obscured for privacy reasons, though the Title IX proceedings Unravelings describes mirror what Cheshire herself experienced as an undergraduate.
At only 51 pages, Unravelings is the epitome of "though she be but little, she is fierce." Through primary source documents like texts, emails, and Title IX reports, as well as lyrical verse and prose poetry, Unravelings guides the reader into the complicated truths between confidant and abuser, victim and survivor.
As a cord of twine unravels, it becomes frayed––so too does this story as it progresses. Paragraphs lead to speculation and ask unanswerable questions that boil down to how did we get here? Each time, the reader is brought back to center through vibrant repetition and verse––almost like a prayer for understanding in the labyrinth of institutional bureaucracy that oversees even the most intimate matters.
In this way, the chapbook is both a literal and metaphorical unraveling––one that resolutely echoes the thought patterns and stages of grief felt when healing from trauma.
I talked to Sarah about the writing and healing process.
Mandy Shunnarah: I appreciate the use of screenshots––like the texts, Facebook messages, and emails––and the official-looking Title IX documents. Tell me about your decision to add in those elements rather than making the chapbook text-only.
Sarah Cheshire: As a part of my writing process, I spent a lot of time re-reading old emails and text exchanges between myself, Professor X, and others implicated in the story, trying to reconstruct what happened and how it felt. I was really just trying to jog my memory, but found that these documents in and of themselves told a story.
Much like the experience itself, the social media exchanges were fragmented and nonlinear; oscillating rapidly between moments of clarity and moments where logic seemed to be suspended. There was a frenetic, yet poetic quality to them that conveyed the state I was in that year almost perfectly. I also think that, as collected "evidence," these screenshots provide a bridge between Doe's memories and the story the institution is trying to tell. They were the last thing I included, but ultimately I think they are what ties the piece together.
MS: What challenges did you face in the writing process?
SC: Going into my M.F.A. program, the situation I wrote about in Unravelings was still very fresh in my conscious. Whenever I would sit down to write, I would still feel like I was writing under the critical eye of the man who evaluated my creative work throughout college; whose mentorship both sculpted my creative voice and ultimately undermined the confidence I held in that voice.
This might sound melodramatic, but throughout my process of writing Unravelings I kept thinking of a line in one of Virginia Woolf's essays: "Killing the Angel in the house [is] part of the occupation of a woman writer." To Virginia Woolf, the Angel in the House represented the pressure women writers face to write the versions of themselves that men want to read, rather than their true selves. To me, the Angel in the House was the looming feeling that I was still writing to appease my college mentor's toxic gaze. I knew that I needed to, metaphorically speaking, "kill" this gaze in order to reclaim my own voice.
Unravelings was the first piece I completed as a graduate student. It was a very hard piece to write, partially because the events of that year still felt so convoluted in my mind. Basically, I wrote it because I felt I wouldn't be able tell other stories until I'd fully unraveled this one.
MS: I found it interesting how, despite Professor X taking advantage of Doe, she protects him in the Title IX proceedings. Statements that might identify him are redacted at her request and she requests an informal investigation, rather than a formal one. Often trauma victims' actions are misunderstood––can you talk more about that element of the story?
SC: Well, this was a man who dragged me through the mud, but who I was also in love with. He was coming from an incredibly traumatic past, which he shared with me privately (in retrospect this was also a violation of boundaries) and which added an extra layer of nuance to my perceptions of him.
I included redacted moments (which, in the text, mainly consist of striked-out but still legible details about his past) because, rationally, I knew that his past shouldn't excuse his behavior but, in the moments where I was asked to hold him accountable for this behavior, I still felt an emotive need to contextualize it. I knew that he really fucked up, but we had also seen each other in incredibly vulnerable moments and I still felt a sort of convoluted tenderness towards him.
Essentially, I think I defended him because I was having a hard time reconciling his abuses of power with the tender moments that we shared, both in intimate spaces and in our writing. I am told this is common amongst survivors. Sadly, I think many survivors end up justifying the actions of abusers because they have seen the goodness in these people and want to believe that this goodness still exists, even when it's being shrouded by anger or violence or manipulative behaviors. I believe that trust and emotional sensitivity—the ability to, as Rihanna would say, "find love in a hopeless place"––are beautiful, radical qualities that a lot of survivors possess.
In the feminist utopia of my dreams, these qualities would be celebrated. It's only when others exploit them, and we find ourselves searching for ways to love those who continue to hurt us, that they become curses. Ultimately, I think this was my problem; why I ended up protecting him. I truly believed that he was better than his actions and he just needed more time to prove it. I believed this until his actions subsumed me, and my own story got lost inside of his.
MS: As I read Unravelings, I got the impression that formal proceedings like Title IX ask things of abuse survivors that are often difficult or impossible to give––such as linear memories and externally identifiable examples of gaslighting, for example. Based on your own personal experiences and the research you did for Unravelings, do you think Title IX effectively seeks justice for victims?
SC: This is a complicated question; one that I actually find myself grappling with often when thinking about Title IX, as well as the court systems, the police, and other forces survivors are told to appeal to when seeking justice.
Over the course of my four years in college, Title IX saw many positive reformations. I witnessed huge strides in the extent to which survivors have been able to access certain forms of justice through the institutional apparatuses in place, mainly due to the tireless activism of campus survivors and the founding of advocacy organizations such as KnowYourIX. This it is not to say there isn't a huge amount of work left to be done; I find it nauseating that, in the year 2017, we are still seeing cases of women dropping out of school and even taking their own lives because the system has failed them.
In my case, however, I actually felt like the Title IX system was working to the best of its ability—I was treated with humanity and validation by the officers involved, and for the most part, felt agency over how the process played out. My issue isn't with Title IX per se, but with the task that it holds people to; the task of creating clarity in narrative, when stories, trauma, and people themselves are innately so very messy.
Something I thought about a lot while writing the book was the notion of grey matter; the spaces between black and white, right and wrong, good and bad. In my opinion, the most genuine stories come out of these grey spaces. These are the spaces of nuance. The whole purpose of a formal Title IX process is to weigh evidence and determine which side of a story is "right" and which side is "wrong." This need for clear delineations of truth inherently puts survivors of trauma at a disadvantage because in moments of trauma, it is common for linear memory to become disrupted.
I also think that the way that these systems box people up in their individual sides of a story can inhibit perpetrators from engaging in the deep critical self-reflection necessary to truly hold themselves accountable for their actions––and, ultimately, to rectify and change. But I'm less concerned about them.
I think justice means different things for different people. I, personally, don't feel like justice, on a fundamental level, would have been served simply as the result of him "getting in trouble" for his actions. Maybe this is because of some lingering twisted desire to protect him, or because, if I'm being completely honest, I partially blamed myself for how everything unfolded (and still do, which I'm working on). But I like to think that I feel this way because something in me resents the notion that the messiness of stories and human emotions can be resolved simply by weighing facts and legislating right and wrong.
I think that Title IX is necessary in that it holds institutions accountable to survivors and is effective when implemented correctly and compassionately. But I also think punitive models of justice have their limitations. If we're ever going to see shifts in sexist paradigms, we need to find additional ways to hold people accountable for their actions, ways that give space for healing, restoration, and consciousness-raising rather than just punishment and deterrent.
__
Mandy Shunnarah is a writer based in Columbus, Ohio, though Birmingham, Alabama, will always have her heart. Her creative nonfiction essays and book reviews have appeared in The Citron Review, The Missing Slate, Entropy Magazine, and The New Southerner Magazine. You can read more of her work at her website, OffTheBeatenShelf.com.