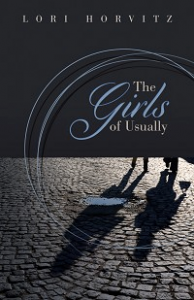 238 pages, $16.95
Review by Erica Trabold
Lori Horvitz's The Girls of Usually chronicles the most defining moments of the author's life. From performing magic tricks to traveling the world to learning more about herself and her sexuality, thirty-two brief essays support a loose narrative that begins with Horvitz's childhood and ends somewhere mid-life, a pause for reflection amidst a string of failed relationships.
Horvitz holds nothing back. On the page, her prose breathes contentment, curiosity, and energy— she is eager to share insights gained through personal experience, however unconventional her life may be. At the forefront, Horvitz addresses potential concerns about the scope of the project, which spans an entire lifetime. In an author's note, she reminds readers that most scenes have been reconstructed to serve the book's larger inquiry and essence. No transcripts exist to verify action, intent, or dialogue down to the very word. As is the case with most writers of nonfiction, Horvitz bases her exploration on the kinds of source material readers would expect, information gained through access to journals, personal interviews, and memory.
The book opens with the earliest of these memories. In "The Magician," Horvitz uses the lens of magic to set up a difference between herself and her mother that corresponds to a tension between the body and the mind. The young narrator identifies as an outsider, an idea that remains central to the book. As a child, she takes note of the labels imposed on herself and others. To a young Horvitz, Jewish means chanting prayers in a language she doesn't understand, lesbian means "freak or freakish behavior," and magician means being a man. As the book progresses, the narrator's understanding of these concepts is challenged and complicated. Relationships and travel help the narrator to positively reframe her identity— she is all of these things and more.
Throughout the book, themes involving magic, love, travel, and the body resurface as Horvitz grows in her understanding of what it means to live. One of Horvitz's core inquiries drives at the question of belonging: "Who were my people? In college, I befriended hippies and artists. All outsiders. I've always gravitated towards outsiders. And outsiders have always gravitated towards me." On the margins and on the outside, the narrator begins to feel comfortable, and in a sense, part of a community.
Horvitz's writing maintains a humorous tone, one that is unmistakably and genuinely human. Though she prods at her memories, cracking them wide open on the page, she is gentle to herself and others— no one is really to blame for the way things are. Each essay in the collection is funny and brief; each dishes out its own heavy dose emotional truth.
In the latter half of the book, Horvitz details romantic relationships gone awry. Throughout her adult life, the narrator meets women on trains, in other countries, and on the internet. Commitments of varying lengths follow, but typically, the relationships end. In the book's titular essay, "The Girls of Usually," Horvitz's girlfriend, Maria, spends too much time with another woman, causing their partnership to crumble. Like Maria, the women Horvitz dates are often working through tough issues, such as dependency or their own sexuality, and unsurprisingly, these relationships don't last.
Yet Horvitz writes of her own fascination with the fire:
"As if every relationship represented a different house, a flammable house without a foundation, I walked through each door, ignoring the smell of smoke, the little flames in the corner. Yet in those houses, I saw the mirrors, the mirror reflecting myself, my vulnerabilities, my destructive patterns. I chose to look away."
The narrator recognizes her own failings alongside her partners'. Ultimately, she finds satisfaction in her life as it is.
In the end, finding a long-term partner doesn't seem to be Horvitz's ultimate goal. In the book's epilogue, she writes that although public acceptance of LGBT relationships has recently boomed, adults who remain single, sexual orientation aside, are often considered abnormal, unlovable loners. As a single woman, Horvitz resists the cultural insistence to partner, one that, to her, stems from a place of insecurity and fear.
At its core, The Girls of Usually is a book about transforming that fear into something more honest and true, stepping outside defined boundaries; this book is a roadmap pointing toward a more positive image of self. The result of is strength, power.
"After all," Horvitz writes, "I am a magician. I have the ability to create magic. We all do."
***
Erica Trabold is a writer of family and memory. Her essays have appeared in Seneca Review and The Collagist, among other journals. She writes and teaches in Oregon, where she is pursuing an MFA in nonfiction.